Food For Thought
"Truth Is What Matters"
© copyrighted
"Monday Morning"
A Film That Brings To Light The Real Suffering of the Homeless
July 25, 2012
by columnist
David Lawrence Dewey
"Reading provides knowledge...
knowledge leads to answers."


SEARCH

---

HOME

---

Previous Columns
---
DO NOT POST THIS ARTICLE ON ANY MESSAGE BOARD IT IS COPYRIGHTED.
Please spread the word about the facts in this article, foreward this link to your family and friends:
Use this URL to link to this column: http://www.dldewey.com/monday.htm

This article is copyrighted and cannot be copied into message boards or other websites without the express written permission of DLDEWEY or his agent at RMMPMKTPUB@aol.com
---
Make sure you also read my columns from 2004 and 2008, Scroll down to the bottom of this article and you will see the links. I reported in 2004 and warned what would be happening over next 4-5 years. I warned of the mortgage loan meltdown and why it would happen and how to protect yourself then from losing much of your retirement funds.
---
John F. Kennedy said...
"Ask not what your country can do for you,
but what you can do for your country."

And...I wrote this many years ago...
Truth Is What Matters....

"Through the sands of time...
the written word has changed the course of history...
inspired many to fight for their beliefs and most importantly...
elevated mankind to a higher understanding of man's...
in-humanity to mankind"

- - - David Lawrence Dewey
---
A DL DEWEY Exclusive


Interview and Film Review
Monday Morning...
A Film That Brings To Light...The Real Suffering Of the Homeless
David Lawrence Dewey - July 25, 2012 © copyrighted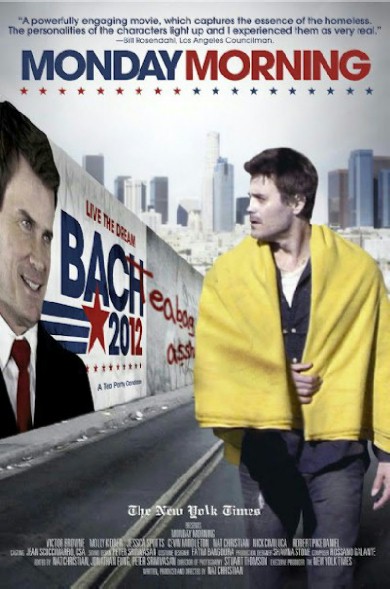 Nat Christian delivers a new film that brings to light the stark truth and real suffering of the homeless, something that Americans and Politicians alike can no longer ignore.
Despite the common belief among many that the homeless are worthless people, the truth is, many were only one paycheck away or not being able to get disability from being homeless.
Every American needs to stop and think about that, only one paycheck away from being homeless.
The film is a characterization of the homeless. It is based on true stories that we see all the time in real life. Stories that range from a Mother with a child who has lost her husband with no means to support herself, to a war veteran whose testicles were blown off in a war or a veteran suffering mental health from the horrors of war. With no support from any source, these people become homeless. Yes, some become alcoholics and drug users. What a sad state of affairs that our country has allowed this to happen. It is growing daily and no one is pay attention. Hopefully this film will wake people up that we must fix this.
With a budget of only $65 thousand, which would classify this as a low budget film, the film delivers with strong acting talent and a story line. I must warn viewers, there are graphic scenes in this film that depict what truly goes on in the land of the homeless.
The film should not be viewed by minors since it has not been rated yet. There are some very graphic scenes and graphic language in this film that some may find digusting, however, the stark truth is appalling and disgusting.
Nat Christian wanted to deliver a message about the sad graphic truths of the homeless and how they must live. He was not concerned about making an "artistic" film, he wanted to deliver a message, the stark reality and truth of the homeless and that he did in Monday Morning.
I understand though from Nat Christian, that a final editing cut will be done, and a few of the most graphic scenes will be re-edited. What I viewed to write this review of the film is called a "for screening purposes only", before a final edit has been done.
The film thus far has received mixed reviews, mostly positive though. It is amazing how... when the truth is presented, a few will not even review a film because they don't want to see and admit the truth that is there. And the truth is what it is... and that we truly must start to do something about this atrocity of mankind's inhumanity to an ever growing population of the homeless.
The Reviews - - -
"Bold and haunting... Nat Christian amalgamates the elements of drama, thriller politics, social commentary and magical realism" ... Avi Offer, NYC Movie Guru
"Complex and deep, and will leave viewers thinking" ...Caress Thirus, Film Monthly
"A Wonderful Life turned inside-out,... powerful, often upsetting" ... James van Maanen, Trust Movies
"A timely film & a rarity in today's political climate"... Edward Yerke-Robin, Film Critic
"A powerful and engaging movie"... LA Councilman, Bill Rosendahl
"A truly inspiring and riveting film"... Booker Pearson of Upward Bound (Homeless Rehab Center)
"Thomas Bach (Victor Brown) is on top of his game"...The Rotten Tomatoes Review
"A unique story, dives beyond its political exterior"...Stephen Davis, College Movie Review
"A timely film & a rarity in today's political climate...Weekend Movie Guide
"An eye opening film"...Nick Leyland, Movie Review Room
"Complex and deep, will leave viewers thinking...Carus Thirus, Film Monthly
"A wonderful life turned inside out"...James van Mannen, Trust Movies
And my review of "Monday Morning"...
"Brings to light the real suffering of the homeless...
something that Americans and Politicians alike can no longer ignore...Monday Morning is a definite thumbs up !"
...David Lawrence Dewey - Author, Columnist


Monday Morning has received two film awards: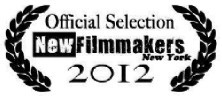 The Characters - - -


| | | |
| --- | --- | --- |
| Actor, Victor Browne, known from the soap opera, One Life To Live plays the lead character, Thomas Bach in Monday Morning. Browne's films include, The Cottage, Closure,The Invited. Also the film series, Love's Unending Legacy, CSI, Crime Scene Investigation and ER. Browne plays a diabetic politician. He gets attacked in Los Angeles with an injury to the head, loses his memory and becomes one of the homeless for several days, almost dying by not taking his insulin shots. | | Actress Molly Kidderhas appeared as Intern Megan in the television series, Grey's Anatomy and Seattle. She played characters in the TV series Outsourced and The Unit. Kidder plays Katherine Sands, an aide to a U.S. Senator who is trying to help the homeless. She is also Thomas Bach's love interest and conscious in Monday Morning. This is Kidder's first major film role. |
| | | |
| --- | --- | --- |
| Actress Jessica Spotts, who has appeared in several short films and the 2006 television series, Birnkrant 616, plays Beth, a young woman with a son who has become homeless. She becomes a prostitute to support her son and herself and her drug habit she acquired after becoming homeless. She is raped, beaten and there is a sad ending for both she and her son. | | Actor Nat Christian was in the daytime soap operas, General Hospital and The Young and The Restless. He played characters in the Mike Hammer and Falcon Crest television series as well as appeared in the movie King Kong Lives and the recent movie, CHANNELS with actress Joan Van Ark and actor Ed Asner. Christian plays the character, Damn in Monday Morning, a war veteran who had his testicles blown away in a war. |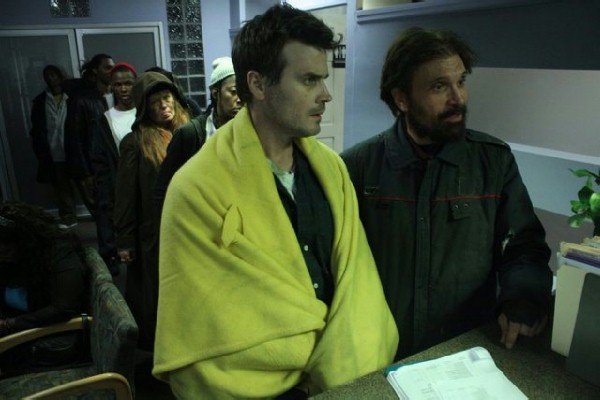 Victor Browne as Thomas Bach, the politician who loses his memory and Nat Christian, the homeless war veteran Damn
Nat Christian not only wrote and produced Monday Morning, he also plays the character, Damn in the film, a character who was in the military and who had his testicles blown off in a war. Christian adds the craziness so to speak of what would be termed a "crazy homeless" person, but once you get to know the character of Damn, one can only feel sorry for him and what the system has done to him being a veteran.
The overall acting in the film I give a thumbs up + 5. Victor Browne, Molly Kidder, Jessica Spotts and Nat Christian deliver their characters with much realism. Some may find the story line at times not "thrilling" with excitement, but the actors provide depth to the characters they are playing, simply showing what does and I should say, doesn't go on within the homeless. What I mean by that is this. The homeless become the way they are because they have "nothing to do". They have been thrown away by society, made to feel worthless, their minds melt away in their despair.
Browne and Spotts make you believe they are truly homeless. Molly Kidder adds a touch of class to the film as being the conscious in the film, playing a character who is an aide to a U.S. Senator who is trying to help the homeless. Nat Christian shows the sadness of a war veteran that the system has forgotten about. After watching these characters, no wonder the homeless wind up with such a feeling of hopelessness and depair and become what they become, human beings tossed aside and forgotten about from the rest of humanity in a very inhumane way. The truth is, a large part of humanity has basically walked away from these poor souls who will simply die before their time because they have been forgotten.
I encourage every adult American, if you truly want to know the truth and the plight of the homeless, along with all the negatives of how they live which many will find repulsive, then I urge you to watch this film so that it is a call to arms to correct this horrible atrocity that America is allowing to occur and allowing to grow.
Monday Morning, despite that the film is a low budget film, it delivers the message of what America needs to wake up about, this includes all Americans and Politicians.
Nat Christian agreed to do an interview with me. My questions to him and his answers follow. In this interview, you will get to know Christian and his purpose for making Monday Morning.
My Interview with Writer/Director/Producer/Actor, Nat Christian
DLDEWEY ---
You produced and wrote Monday Morning as well as acted in it. Why did you want to do all three? When did it come to you that you wanted to do such a movie as Monday Morning. Was it your original thought to also be one of the characters in the film and why did you want to portray one of the characters in the film.
CHRISTIAN ---
Monday Morning started out as a 10 minute short. A Christmas story. It was called "A Gift Of Love." The lead character was a female reporter. And there was this sort of a magical cab driver - and the results were basically the same, where she learns about having grace and compassion. It was more lyrical. This was in the early 90s. I kept putting it aside as I got sidetracked with other work. However I started my deeper research around that time as well. As time went on and I delved into it deeper, I would go back to the story and expand it. It then became "The Visit" and "An Illuminated Journey."

Then, around 2004, I had a finished draft. I started to have table readings at different venues. Someone's house, an open space at the Peace Center (Office Of The Americas), a church, etc. Ed Asner acted in those readings. As I "heard" the screenplay being read, and I re-wrote ad polished it, I became more and more determined to make the movie. I ultimately changed the title to "Monday", because Monday mornings are when I feel the mechanism of the city wakes up having no regard for the lost souls who get in its way. I then changed it to "Monday Morning."

As far as producing and directing, when you make a movie for a budget of 64,000.00, then a director has to have his "producer" cap on. A director does not have luxuries that bigger budgeted movies have. Such as endless "takes" or to go off and rehearse on the set for a long time, etc, etc. The director has to know the limitations of being at the location (don;t have the luxury of going back and re-shooting). We just did not have the proper budget. At this budget I needed to be absolutely sure that all of the ducks were in the row.

So... I produced as well. I got a lot of stuff donated in order to try to come close to a certain vision at this budget. Acting in the movie was more of being involved with the character and wanting to be totally involved with the movie. The character of Damn was not in the very early drafts. When we had our readings, I used to play the lead. But as the script progressed and Damn came to fruition as a result of a lot of research, I connected with that character. Then when it came time to make the movie, I realized that I would find someone better for the lead role, and he ultimately was, that is Victor Browne ! Damn's scenes were grouped together so that it didn't distract me much from my directing and producing chores.
DLDEWEY ---
What was your motivation or desire to do Monday Morning? Was it because you felt human beings who had become homeless were being discarded, ignored and forgotten about because they had become homeless?
CHRISTIAN ---

If a thought or an idea doesn't swirl around my head and start to develop over a period of time of (maybe about six months), I try not to jump into it anymore. If it stays with me, there is usually something there. If the something there is very strong I pursue it. With Monday Morning, I think the desire probably built up over a period of time subliminally, before my motivation set in. Simply put, I felt guilty. Why? I don't know. I do know that I would see an old "homeless" lady on the street and think "when she was a little girl I could see her crossing the street holding her father's or mother's hand and feeling safe and happy." And I remember feeling "What happened? Why?"

The homeless characters in Monday Morning are the very hard-core homeless. They simply can't "do." Before I made the movie, I've heard people say (and I'm paraphrasing) "They can work if they wanted to" or "When I was down and out, I would get off my butt and find a job or two andů etc." With the hardcore homeless, I strongly disagree. I feel you can give hard-core homeless people a job bagging groceries, but after a short while, they simply can't do it. They are too screwed up. A young girl was raped by her parents from a very young age and ran away from home and fell victim to hard drugs to the point that she can't function. A war veteran was a 17 year old teen in some small town somewhere when he was approached by a recruiter to join the military with promises of learning a trade, and the next thing he realized was that he was in some country somewhere shooting at people he never knew existed. He may have accidentally killed civilians. He becomes addicted to drugs and alcohol. He is sent home, with no real psychological treatments to help him. He still doesn't know why he killed these people. He can't sleep or function and is an addict. But because of budget cuts or de-regulations and laws that were either struck down or passed (in the eighties), many patients in hospitals who were medically diagnosed as being mentally ill fit were kicked out and basically just placed on the streets, usually in the downtown areas of a city. Because I was dealing with the hardcore homeless, I should take this opportunity to explain that I feel the word "homeless" is not quite accurate. "Hopeless" is more appropriate. I feel that you can give a "homeless" person a million dollar "home", and he would still be "homeless" - "hopeless."

The whole "homeless" situation became more of an obsession to make a movie depicting the unfairness that has fallen on these human beings.
DLDEWEY ---
Are the characters in Monday Morning based on a composite of actual homeless people you have seen on the streets that are struggling with the following issues? I.E., Veterans being forgotten, not being given adequate health and mental care. People losing their jobs/homes. People having tragedy hit them in their personal lives and having no support from family/friends. People with mental health problems that have been thrown out into the streets because of budget cuts?
CHRISTIAN ---

Good question and I feel that I touched upon some of this earlier... Yes.... these characters are very much based on people I have seen on the street. Also on people I had originally interviewed in the 90s at places like the Midnight Mission, Union Rescue Mission, etc. Many homeless women are very smelly and "unattractive" deliberately as a self defense mechanism, like skunks, because it helps keep men away from raping them. Homeless women are raped - yes, raped - beaten to semi-consciousness, thrown to the ground, and other ungodly things done to them, then left to either just lay there on the concrete or try to get up, or die.

When we see these people, we see the surface. The dirt. And we may feel badly, but then we pass.

Every once in a while we will see the young couple with the young child walking on the street. Yes, they are on drugs and are begging, but they didn't just wake up and decide to do this. Sure there are many that "play the system and are just plain lazy." But that goes without saying in all walks of life, in every aspect. So that argument becomes a wash. These characters in Monday Morning are the innocents who fell into the deep abysses of despair, with no hope of getting out.

We see the "Damns" yelling at people and things that we don't see. You know, there is another term that IED is used for. It is a medical term called "Intermittent Explosive Disorder" - Psychological or physical trauma, seizures, brain infestations, alcohol or drugs are some of the contributing factors.

We do also see the homeless who are on the streets, because just prior to their situation, they were "one paycheck away" from being homeless. I don't really have these characters in Monday Morning, but the situation is very real.
DLDEWEY ---
What is the percentage you feel of people that are homeless on the streets who do turn to alcohol and or drugs, do so to ease the emotional pain of their problems or do you feel it is because of a genetic predisposition to alcoholism and or mental health issues, or is it a combination of , I.E. , ease the emotional pain of their circumstances combined with a predisposition to alcoholism and mental health issues.
CHRISTIAN ---

There is a large percentage of homeless people who had a genetic predisposition to alcohol, or mental health issues, before they became homeless. Certainly, many do "turn" to substance abuse once they become homeless. i.e. A 14 year old girl runs away from home because of physical and sexual abuse. Once on the streets she falls prey to the drug pushers, etc and falls deeper into despair. But more people already have conditions or were sent to the streets from hospitals with conditions that are hard to treat.

A composite of many different studies will show that many of our homeless are comprised of (and combinations of):

3.5 million people are homeless, including 1.3 million children
Veterans - 35-40%
Serious Mental Illness disorders - 25%
Alcohol and drugs use - 65%
HIV/AIDS - 4%
Tuberculosis, pneumonia, sexually transmitted diseases - 26%
High blood pressure, diabetes, cancer - 46%
Homeless kicked out of hospitals who get some of their food from garbage cans. 28 - 32% percent
(8% use garbage cans as a primary food source)
COMMENT FROM DLDEWEY:
When you dig into the statistics they show a continuing growth of the homeless in certain parts of the country. The figures above that Christian is stating are fairly accurate. A 2010 study by the Center for American Progress shows that a disproportionately high number of youth are becoming homeless. I find this very alarming. Our youth is this country's future. I ask...what are we doing here? Are we slowly setting the country up for failure? This website provides statistics of the homeless: http://www.endhomelessness.org/content/article/detail/4361/.
The organization acquires this data from the U.S. Department of Housing and Urban Development and welfare agencies. The problem with this data is that point-in-time count methodologies are used. This means they only "count heads" in the field. This does not represent how many homeless are living under bridges, abandoned buildings and other places that these field head counts don't always get to to count people. These "counts" of the homeless vary and are imperfect and as such the aggregated numbers do not represent a precise count of homeless people in this country, especially when you hear city officials in parts of the country complaining, "the homeless population is growing."
According to this imperfect field "head count", the "data" by HUD is showing the number of homeless people was essentially unchanged between 2009 and 2011, with only a 1 percent decline. This data includes both what is termed "sheltered" and "unsheltered homeless". However, what the data does show is this. The unsheltered population increased 2 percent from 239,759 in 2009 to 243,701 in 2011. I believe this figure is actually much worse. When you look at data over the last ten years, homelessness has been increasing at average of 2-3% a year, especially with the economic problems since 2008. The so called overall decrease they are stating which I feel is inaccurate can only be attributed to an increase of non-profit local charities that have cropped up the last three years helping people to get back on their feet. It was NOT because of government programs, when in fact the last two years, government subsidies for the homeless have been cut by Congress. I find this very ironic that politicians can find money for pork barrel projects like the $11 million dollar bridge to nowhere in Alaska, yet they can't find money to help the homeless or war veterans that need help.
~ ~ ~ Back to the interview with Nat Christian ~ ~ ~
DLDEWEY ---
Do you feel that most people turn away from the homeless and if so, what is it you feel causes most people to turn away from the homeless. Do you feel it is because they fear that they themselves could one day wind up homeless?
CHRISTIAN ---

I feel that we, including me, do turn away from the homeless. We see them but do not want to get any closer. Sure, some of us will give them money (I don't advocate that) and it makes us feel better, but we don't want to "know" them. It would be like looking in the mirror and seeing real "truths." Most of us - single people, couples with kids, are too busy working 14 hour days to think. If we did absorb the truths, what are we going to do? Homelessness is a by-product of a system. Like making great chicken soup in a big pot. There will always be the by-product that floats around. We actually "need" the homeless to define our class structure. Think about it. It's all relative. If everything around us was the color blue, there would be such thing as green or red or yellow or any other color. So, if every person in our country (including the homeless) had 5 million dollars, you and I would not be middle class or rich. The very poor to defines the not poor.
DLDEWEY ---
What was the main message you were wanting to deliver in Monday Morning? Do you feel that what you have presented in Monday Morning is actually occurring in real life pertaining to the homeless and how politicians are dealing with the issue?
CHRISTIAN ---

Well - after what I said earlier, one might say that I am depicting a picture of hopelessness. Yes. I don't know how to really help the situation. We have many, many kind hearted and well intentioned people in our society. More than I think most people think there are. These good people try every day through donations and working with homeless organizations to better the situation. They get more shelters and housing built. I just don't think that will completely help the homeless-hopeless situation. It is a situation that is a real by-product of our system. So, being a writer and, given today's technology, a lot of us writers are also movie makers. My most effective tool is the power of the proverbial pen. So I take my little flashlight and shine it in a dark corner - a corner that many others have already seen. And I say "Hey, this is what I see." My perspective. And once I do that, the primary message that I would like to get out is - Well, I don't know what to do about this situation, unless there is a real overhaul in the system. And since I don't know what to do, can we at the very least have a little "grace" towards those that we pass by on the streets. Grace.

Also, hopefully many people will see the need for a real single payer universal health care system in this country. I could go on and on about Single Payer, but that probably is another discussion
DLDEWEY ---
Do you feel that other people need to adjust how they view the homeless to correct the ever growing population of the homeless on the streets?
DLDEWEY ---
What can the government do and should do to stop this atrocity of the homeless that is occurring? This includes both state and federal government separately.
CHRISTIAN

Well, I think first we need to get money out of politics. This may sound off point here, but it very much affects every aspect of our lives. I think that we should provide COMPLETE healthcare to everyone. I think we should give treatments even to the minor mentally affected people. I could go on here about how to have this paid for, but again could be another discussion. I think that we should re-define the term "Competition breeds excellence", because it has turned into competition meaning knocking out (or buying out) your competitors rather than making better products. Trying to achieve excellence by doing better is slowly getting lost on us.
DLDEWEY ----
Do you feel this is mostly a large city problem, or does this occur in small rural cities as well? Do you feel it is larger in the sense of how many people are homeless because of the size of the city, or it is about the same percentage of homeless based on the population of a city, whether large or small.
CHRISTIAN ---

The people without homes are more evident in the cities, however the underlying problems that these people have are everywhere. We just don't see them. Many in the large cities are from the rural and midsize towns - that is where they go and become invisible. Heavy drug use in the midwest and/or small rural cities are very high.
DLDEWEY ---
What can Americans do to help resolve this issue of the homeless. On a local basis and national basis?
CHRISTIAN ---

Americans are represented by the people they elect. As for efforts outside of the government to help resolve the issue of homelessness, I don't think it is possible. I think charity certainly does some help, but again, it think this is a systematic problem arising from the way the system is set up.
DLDEWEY ---
Do you feel that unless something is done, that it is going to grow and grow into larger population of the homeless and is this because there is not enough support for the homeless.
I feel that, yes, the homeless situation can only grow larger and larger, unless the system changes.
DLDEWEY ---
What percentage of Americans you feel look the other way when it comes to the homeless.
DLDEWEY ---
What percentage of Americans you feel are helping to solve these issues of the homeless by donating money and or contributing their time to the shelters that do exist for the homeless.
CHRISTIAN

I don't know what percentage of Americans donate to issues of the homeless, because these issues could span across a variety of areas. I do know, as I pointed out earlier, there are many good people donating and working with homeless organizations to better the situation.
DLDEWEY ---
Do you feel most Americans think if they ignore the problem long enough, it will resolve itself mainly because without help, support, medical care to the homeless.. many will simply die, resolving the problem. Do you feel this is ordinary people that feel like this, or people in government that feel like this, or both?
CHRISTIAN ---

I don't think that anyone (well, I suppose some could) feels that the situation will resolve itself, because the homeless will die off. More and more homeless are entering the homeless community and there will be more births and more homeless people. I just think that, subconsciously, people suspect that there is no real solution or that it is overwhelming and they/we just don't want to deal with it. So, once in awhile, we give a little, and we feel just a little better.
DLDEWEY ---
If there was one thing you wanted to tell people concerning the issue of the homeless, what would that one thing be?
CHRISTIAN --- That as far as I know, we do live in the best country that is on this planet. That doesn't mean we can't improve. Nevertheless, here we are. That but for the grace of God, or Nature or Luck, there go each of us. If we can't find or even work towards a solution, can we at least provide comprehensive health care (including mental) for all. And to exercise a little more grace as we see them.
DLDEWEY ---
If there was one thing you wanted to tell the homeless, what would that one thing be?
~ ~ ~ END OF INTERVIEW ~~~
If you would like to correspond via email with Nat Christian about the movie, you can reach him via email at mondaythemovie (at) gmail.com. Replace the (at) with the regular symbol. This is done to prevent spam bots from spamming this article of email addresses.
Last....please visit...
ClimateCrisis.net Official An Inconvenient Truth: Global Warming Effect Website - Learn about , Global Warming Truth, Causes, Effects & Facts Pertaining To Climate Change That Is Real!
Despite the global warming deniers that global warming is not occurring and not caused primarily by man, read the facts and data yourself. The truth will stop all this argument and just maybe the human race will start to address this problem before it is too late. We are almost at the tipping point. All one has to do is look at all the screwy weather we are seeing around the globe, severe droughts, massive abnormal flooding in other places.
One thing for sure, it is affecting the food supply and be prepared for food price increases from 5% to as much as 20% beginning in the fall due to crop failures around the globe. It is already estimated that a gallon of milk will increase up to 50 cents by the fall due to crop failures. Demand will outstrip supply, i.e. hay to feed the milk cows, increased price of hay due to crop failures. And it is just not hay for cows. I am talking about corn and wheat. Do you know how many foods use by products of corn and wheat? Over 10,000 products from dairy to packaged foods, and even some cosmetics. Everything will be affected as the weather worsens. Do I need to provide you with other facts to convince you that global warming is real and is primarily caused by man? I have, read my articles on global warming, the links are below. So..what are you going to do about it America?
Until next time ........
~ ~ ~ David Lawrence Dewey


Below are links to my previous columns concerning the truth and facts you need to know.
---
GreenMedInfo.com provides free and convenient access to the biomedical research on the therapeutic value of natural substances and modalities in disease prevention and treatment. This is an excellent website where you can check on various herbs and ingreidents in supplements. You can also subscribe to their newsletter. Just click on the image below.


---
IMPORTANT UPDATE:
Make sure you read about the new documentary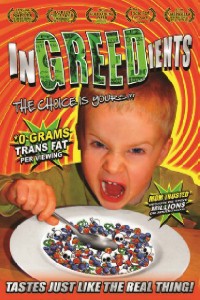 Read About the Film - Click Here
Do you want to die young with a diseased heart?
Develop needless high blood presure?
Develop diabetes type II ?

If not - then you need to watch this new documentary !

THE FILM HAS WON FIVE FILM AWARDS !
---
Do you care about your health, the health of your children, your family?
Then make sure you read my column:
Hydrogenated Oils - Silent Killers
Learn the truth about these deadly oils in our food supplies

Read about Greta Ferebee's and my efforts in a nationwide petition campaign to get these and other toxins out of the food supply. VISIT our website:


---
© All Rights Reserved. Use of these articles is for personal use only. Any other use is strictly prohibited. Newspapers, syndicates or publications wishing to print his columns, email your request with details to Mr. Dewey's agent. Email Contacts for DL Dewey. For any other use, DLDEWEY for permission to use column or columns, detailing your request to use which column or columns and for what purpose.
©2012
Rocky Mountain Publicity
Last Modified:
July 25, 2012