UPDATES 5-26-05

500 Million Votes Cast On Season (4) - 5-24-05 ?

Where were Kelly, Ruben, Clay and Fantasia On Season 4 ?

Independent News In England Publishes Story on 5-22-05
That Carrie Is The Winner of Season 4 ?


Due to thousands of emails I've received the last couple of weeks concerning American Idol, Seaon 4, here is some information you may find interesting since my original article in 2003.
It was announced prior to Carrie Underwood being named the American Idol for Season 4 there were 500 million votes cast this year.
Here is a bit of information that can easily be calculated now to compute the average number of trunk lines that American Idol would have had to have to handle the 500 million cast votes during the Season 4 finale as the auditor from Telescope stated. I wonder if the auditor actually meant 500 million cast votes for the entire season?
Let's take the 500 million votes for the season finale first. Using simple math, if you take the 500 million divide it by the 1,440 minutes of calling in time to vote, (four hours per six telephone lines - keep in mind there are two time zones of calling in time, East and West - there is a two hour difference between east and west coast feeds ), that equals 1,440 calling in minutes to vote. Divide the 500 million by 1,440 calling in time minutes, that means that 347,222 calls per coming in among the (6) toll-free numbers, or 57,870 calls per each number of the (6) toll-free numbers for the two contestants.
To be able to handle these number of calls during these 1,440 total calling in time minutes, each toll-free number would have had to have amazingly and it computes out to be, 1,440 truck lines for each toll-free number for a total of 8,641 trunk lines to be able handle 500 million casted votes during the calling in time period. Average time for each call is approxmiately 6.697 seconds to register the vote etc.
Multiply the 57,870 calls per minute by 6.697 seconds per call and you come up with 500,071,639 approximate votes cast during the four hour calling in time frame.
Now, if the auditor meant 500 million cast votes for the entire season, that would average out to be about 41.1 million votes cast each week on average. Let's round that out to 42 million votes cast each week.
Using 42 million for the season finale that changes the number of trunk lines for the two contestants.
That is 27,778 calls per minute, or 4,861 calls per minute for each of the six telephone lines. The average connect and record time for the vote per each call would be around 6.697 second. This would be compute out to be at least 2,450 trunk lines needed spread out among the six toll-free numbers to handle the incoming calls that were recorded. That averages that each toll-free number would have had to have about 400 trunk lines per toll-free number to handle the 42 milllion incoming calls casting votes between the two last contestants.
I leave it up to you? Did American Idol have that many trunk lines for the final vote for each toll-free number? If they did, then why were there so many problems in people not getting through on previous weeks to vote for other contestants?
Another bit of information. In this article below that was published by the Indepedent News on May 22-2005, Carrie Underwood was announced the winner of American Idol (4). You'll read later who owns the Indepenent News and the tie in.
You can also view it on a cached page on GOOGLE at:
Cached Copy of Independent News Article published 5-22-05.
I can't guarantee how long it will remain on GOOGLE, so here is a copy. For some reason, the original was quickly removed by the NEWS on 5-23-05. Did someone already know something the rest of us didn't?
This was the original URL of the article on the Indenpendent News on 5-22-05 before it was pulled. http://news.independent.co.uk/business/news/story.jsp?story=640328.
If you go to it now, you get a 404 error.
Independent Home | News | Sport | Comment | Education | Motoring | Money | Jobs | Travel | Enjoyment
Britain's stars shine for Europe
By Jason Nisse
22 May 2005
Ten British-based business people have been named among the 25 Stars of Europe by American magazine BusinessWeek. However, only five of them are actually British, showing the international nature of the UK business community.
Among the more predictable names in the list are Sir Terry Leahy, chief executive of Tesco; BT boss Ben Verwaayen; and Nigel Newton, who signed JK Rowling for Bloomsbury Publishing. More surprising are Andrew Black and Ed Wray, the co-founders of Betfair.com; and Simon Fuller, the pop impresario whose American Idol TV competition was won this year by Carrie Underwood.
I'll let you decide what the above is all about.
I've received hundreds of emails asking the question..".where were Kelly, Ruben, Clay or Fantansia on Seasons 4?" Why did they not make an appearance or perfom this year on American Idol?
Is this correct? I only watched the last 10 minutes of the show. And what is this about? Are there contract disputes going on between them and you know who?
One last comment on Season (4). I have received thousands of emails that are very similar to the one below concerning what this person wrote. Evidently, one number of Bo's went to a "chat line", and people could not get through to the other two lines.
Bo Bice did not have three working phone numbers for the final vote for American Idol! The first number, (866)463-5701 answered, "Welcome to Idol Chat. Please enter your access code or credit card number to continue."
What's up with that!
I tried calling in for Bo from two different California phone numbers and could not get through during the entire 4 hours of voting on the West Coast. I called from both a (925) area code (cell number) during my two hour car ride home from a friend's, and then continued to call from my (530) home area code for the final two hours. I easily placed over ONE HUNDRED calls collectively (by then I was on a mission!) to all three numbers during the 4 hour period. Not one call registered as a vote for Bo, but each of the four or five calls I made to his 01 number got through to the "Idol Chat" connection. How many thousands of votes did not get through for Bo Bice? Who really won this season's American Idol?
And the producers of American Idol said two years ago they worked out all the "problems" of voting?...
I don't think so.
Now to my original article in 2003 asking...
Is this show another $64,000 Question hoax?
They advertised it on the show. They announced it time and time again by Host Ryan Secrest, "And it is you, the American viewer who will pick our next American Idol ! ".
Did the right man win? I'm not the only one asking these questions.
Is that what happened on May 20th, 2003? Did all viewers have an equal chance and ability to cast their votes for the contestant of their choice?

That is the new $64,000 question that everyone is talking and asking about.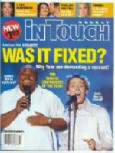 However, shocking details have been uncovered while investigating this matter. One of the facts discovered concerns INTOUCH magazine which will be disclosed later.
One of the traits of an investigative journalist is to keep digging which leads to one thing and then another. I've followed the old saying, "follow the money". When you follow the money, you always find the truth. Sometimes, what is discovered appears at first to be unbelievable. It appears unbelievable because of what is discovered.



And there are some who will not believe despite the facts presented. These people you can tell them that the sky is actually falling, and they will stand there and tell you, "No it isn't".

I cannot believe the gullibility of Americans. Wake up America! Has this what is has come to in this country? People will raise more ruckus about not being able to vote on American Idol than not standing up for their fellow Americans that were not able to vote properly for their Presidential candidate. There is something terribly wrong in America. America...please get your priorities in the right place!
By the way, despite the FCC's claim that this show is "entertainment", in my opinion, it does indeed fall into the "game show" regulations. Why you ask? Because there is a "prize" at the end for the "Grand Prize" winner. In addition, the final (12) contestants derive royalties off record/CD sales and tours...so they are participants in a "game", not entertainment as as thus, should fall under the FCC regulatory control of "game shows."
When this project was begun, where it was going to lead was unknown. However, the facts speak for themselves. I also had no idea that it would tie in with a column which I wrote in July, 2002.
This final report is broken down into sections to make it easier to follow the information that has been discovered. The final results of the complaints are broken down in much easier to understand formats and tables So, here's the rest of the story.


Why I became involved in this matter in the first place

The night after the final voting night on May 20th, eight hundred plus people emailed me asking for my help to possibly find the truth of what occurred on the final vote night of American Idol. These American televison viewers felt betrayed and used. They had not been able to cast their votes for their contestants.
That following day, a message board was set up on my site so that people could post their complaints. However, that same day, over 400 people emailed me. They wanted to know if my site could collect complaints to be forwarded to the FCC and the Fox Television Network. These people wanted to become one huge voice so they could be heard. They asked for my help. Many of these people also know me by my belief that, "many small voices can become one HUGE voice which cannot be ignored." So, the decision was made to take on this project. A complaint form was placed on the site and complaints began to be accepted.
What happened over the next thirty six hours was disturbing. It was discovered that someone was submitting bogus complaints. Over 25,000 of them were submitted. We discovered the complaints were bogus because they had different names, but the same address and telephone numbers. At the same time this was discovered, emails were received from readers stating that certain people on message boards were attacking my motives for collecting the complaints. My credibility and a whole host of other character assassinations were being left on message boards. I want to thank those though that came to my defense on those boards.
It was evident that these people attacking me and my website with these bogus complaints did not want the tabulation of these results known for various reasons. They were trying their best to disrupt the process and outcome. And I want to clarify one very important point concerning an issue of what I was being attacked about. This had nothing to do with trying to unseat Ruben Studdard as the winner. It simply had to do with a right and wrong. Evidently some people don't care about, that while others do. This travesty has to do with how the American viewing public was made to believe that their votes would pick the American Idol winner. Did that happen? No, and for one simple reason. Hundreds of thousands of viewers were not able to cast their votes for their contestant, regardless of who they were voting for. The trust of the American viewing public was abused for what now appears to be for greed. And you will read how and why later.
The only way that this sort of practice will be stopped is when enough Americans stand up to be counted for to say, NO MORE. It is such people as those filing the complaints. I have no hidden agenda, no hidden motives for getting involved with this serious betrayal and manipulation of the American viewing public. There is a simple right and wrong here. What was becming disturbing to me was the thought that most Americans had lost that understanding until I received the hundreds of emails asking for my help and the countless thousands of emails since, thanking me for looking into this matter.
Why We Had To Pull The Complaint Form From The Site Early

On June 10th, the complaint form had to be taken off the site. Someone again with highly technical knowledge started bombarding the site on the night of June 9th. The site was nearly shut down with hundreds of thousands of hits in a 15 minute time period. The site was being attacked from multiply servers from across the country and around the globe. Again, whoever was doing this definitely did not want the collection of the data I was collecting, nor for it to be tabulated to show certain patterns. Why? It would provide the information to show that something very serious occurred on the night of May 20th, 2003 and it was not just local telephone company problems.
Who Are The Real Players In American Idol And All Of This?

The Fox Television Network is owned by Rupert Murdoch's News Corporation. It is a global media and entertainment empire. The company, which is one of the world's largest media conglomerates, publishes scores of newspapers The Times of London and books HarperCollins. The company's 80%-owned Fox Entertainment Group has significant entertainment holdings, including FOX Broadcasting, a TV network with 200 US affiliates in the US. It also owns Twentieth Century Fox films, and the Los Angeles Dodgers. It also owns 35 US TV stations and cable and satellite operations in Asia, Australia, Europe, and Latin America. More than 75% of News Corp.'s sales are from its US businesses. Murdoch's family owns about 30% of the company.
News International PLC,( which is owned by Murdoch's News Corporation) is the UK newspaper arm for The News Corporation. It publishes four national newspapers The Sun, The Times, News of the World and The Sunday Times. It also has Internet operations and interests in satellite broadcasting, telemarketing, and distance education.
Murdoch's News Corporation also owns NDS Group around. The company is a leading provider of set-top box software that manages customer access to digital satellite, pay-television, and Internet services. Its VideoGuard software and smart-cards link viewers set-top boxes with broadcasters databases of subscriber profiles and preferences to allow authorized pay-per-view access. Cable and satellite broadcasters use NDS software to control programming access to more than 30 million subscribers. In addition, NDS develops operations software for managing digital broadcasting systems. Customers include British Sky Broadcasting, Cablevision, and DIRECT TV. News Corporation also owns STATS, which offers sports information and statistical analysis to fans, professional teams, media organizations, software developers, and interactive service providers.
Murdoch's News Corporation recently purchased 34% of Hughes Electronics in which General Motors is also the majority partner in Hughes. Hughes produces all the electronic parts for GM cars. I find this very interesting in how a newspaper organization is allowed to own a company making electronic parts for cars. How can a newspaper, who is suppose to report the facts and truth on all issues, especially consumer matters, be unbiased should a major defect is discovered in the electronic parts of the very cars they are making the electronic parts for? This gets into a another matter which I've written an accompanying column FCC Delivers Blow to Democracy. Make sure you read this column as well. It is important to understand what has occurred and why Congressman must be contacted to reverse this deregulation.
Murdoch's News Corporations, ( FOX ), leads us to Independent News and Media in England. Remember, Murdoch's News Corporation owns media in England. Make sure you keep reading, it gets better, or is it worse?
Independent News & Media is Ireland's #1 newspaper publisher, circulating its flagship Irish Independent along with the Evening Herald and a host of regional newspapers and magazines. Outside of Ireland the company owns The Independent in London and has stakes in Australian and South African newspaper operations. In all, Independent News & Media controls more than 200 titles. The company also has radio and outdoor advertising units in Australia, New Zealand, South Africa, and Asia, as well as stakes in Irish cable TV unit, Princes Holdings and wireless Web portal iTouch. Chairman Sir Anthony O'Reilly controls about 29% of the company. Is Sir O-Reilly friends with Simon Fuller. Ooops...did I say iTouch? Now who is iTouch? Many of you probably know. But, if you don't, keep reading, you will not believe the connection.
iTouch has its finger on the pulse of wireless content delivery. The company crosses wireless platforms that include WAP, SMS, and Voice Information Services to pump content to mobile devices in Australia, Ireland, Israel, New Zealand, South Africa, and the UK. Topics range from horoscopes, share prices, and weather to world news and sports; a deal with content provider Flextech Interactive offers concert ticket booking, movie and TV listings, music reviews, and travel information. iTouch offers corporate and commerce services in South Africa. Independent News & Media, the publisher of UK newspaper The Independent, owns 49% of iTouch. Co-founders Avi Azulai and Wayne Pitout combined own 21%. Remember this for later, that the The Independent newspaper above owns 49% of iTouch? Who is iTouch you ask again if you don't know?
iTouch based in England, is the firm that set up the voting monitoring system in REAL TIME for American Idol. Real time means someone is controlling the access telephone portals. Remember what I explained earlier about possible tampering with incoming telephone truck lines. Here is iTouch's website that discloses their involvement with American Idol, http://www.itouch.co.uk/casestudies/index.php?body=case08.
Next on the list is Gannett News Corporation. This company also owns some 400 non-daily publications and a weekend newspaper magazine called USA WEEKEND. Gannett also owns Newsquest, one of the UK's largest newspaper groups with more than 300 titles, including 15 daily newspapers. The company also has a presence on the Internet, operating more than 60 Web sites. NewsQuest is one of the largest regional newspaper groups in the UK, Newsquest publishes more than 300 regional newspapers with a combined circulation of more than 10 million. Its papers (dailies and free and paid weeklies) include the Lancashire Evening Telegraph, Bolton Evening News, and The Northern Echo. The company also publishes business and lifestyle magazines and local information guides. Through Newsquest Digital Media, it operates Internet portal sites built around its newspapers and other Web ventures such as e-commerce site Shopper's World. Gannett, the largest newspaper publisher in the US, owns Newsquest. Gannet is in the process of purchasing Independent News Media for approximately 94 million. Independent News Media owns the Independent in London which owns 49% of iTouch, or ( Telescope.tv, they are the same ) the telephone voting monitoring and tabulating firm for American Idol.
This leads us to H. Bauer Publishing in Europe, which owns Bauer Publishing here in the United States. Bauer publishes INTOUCH magazine, women's magazines, First For Women, Woman's World, and teen magazines, TWIST and J-14. Yes, the very magazine that has been hyping the "war" between Clay and Ruben. Why? Here's why. H. Bauer and Bauer publishing are media clients of iTouch, the telephone voting monitoring firm for American Idol. Make sure you keep reading. It gets even better. But first, you need to know about these companies.
We now need to know about Bertelsmann of Germany. It is a privately held family company and has been since its inception. The Gunther Thielsen family owns the majority of the company. Thielsen is related to the Thyssen family of World War II. The Thyssen family owned the German steel factories. They were in business with Preston S. Bush and W.A. Harriman before and during the war furnishing the steel to the German Thyssen steel factories. Thyssen was making Nazi tanks and military hardware for Hitler's Germany. Preston S. Bush is President George Bush's grandfather. What is more shocking is that Bertlesmann was recently found to be quilty of collaborating with the Nazi's during World War II for using Jewish slave labor. Bertlesmann also published Hitler's Mein Kampf and propagated the Nazi war machine through its newspapers and book publishers in Europe. Later on in the column are links to BBC news stories concerning this.
Bertlelsmann owns the RTL Group which owns BMG Entertainment which owns the following records labels. Arista Records, RCA Records....opps did i say Arista and RCA Records? These are the labels and their sub-labels which American Idols record on. Bertlesmann also owns Zomba Records and BMG Music Publishing. Britney Spears, Backstreet Boys, and Tool record on these labels.
You also need to know about The Group Bruxelles Lamberts which owns 25% of Bertlemann. Group Bruxelles owns the (4 ) major french oil companies, the European utility company Suez and the Candian Financial Corporation, one of the largest lending institutions in Canada.
Okay, you now know that Bertlesmann owns the RTL Group. The RTL Group owns Fremantle Media LLC. Who is Fremantle Media LLC?
Murdoch's Fox Television Network and Simon Fuller's 19 Entertainment are partners with Fremantle Media to produce the American Idol show for Fox. RTL also owns book publishers Penquin, Putnam Viking. Fremantle also contracts with iTouch for the telephone voting monitoring and tabulation of American Idol. Bauer Publishing which publishes INTOUCH magazine is a media client of iTouch.
Below are simple table graphs to show how all of these companies are related.
Sources and links for this information:
News Corporation ( Fox Television ) - Hoovers Financial Services
News Corporation Subsidiaries - Sec Regulatory Reports
News Corporation purchases Hughes Electronics - General Motors company.
- Sec Regulatory Reports
Independent News Media - UK ( Owns 49% of iTouch - telephone tabulating monitoring firm for American Idol ) - Hoovers Financials
Bauer Publishing U.S. - Publishes INTOUCH magaine, owned by Bauer Publishing UK. Bauer is a client of iTouch. - Hoovers Financials.
Bertelsmann - Germany - Owns BMG Entertainment, which owns RCA Records and others. Also owns RTL Group - See below - Hoovers Financials.
BMG Entertainment - Owns RCA Records and other labels. - Hoovers financials.
RTL Group - Owns Fremantle Media, which is the firm that Fox and Simon Fuller is in partners with to produce American Idol. Fremantle contracts with iTouch for the telephone monitoring and tabulations of American Idol. - Hoovers Financials.
Fremantle Media - See above. - Hoovers Financials.
Groupe Bruxelles Lambert - Firm that owns Bertelsmann above. - Hoovers Financials.
BBC Story about Bertelesmann -Germany- Bertelesmann was convicted of collaborating with the Nazi's during WWI and for using Jewish slave labor. - BBC - England. Bertelsmann is privately held company by the Thielsen family. Thielsen family is related to the Thyssen german steel magnate family of WWII who built the Nazi war machinery with the help of Preston S. Bush and Averell Harriman through Union Bank in New York. More details about this in my column of July, 2002.
iTouch - Hoovers Financials.
iTouch Client List - Shows that Bauer is a media client of iTouch. Bauer publishes INTOUCH Magazine.
Gannett Corporation - UK - subsidiary of Gannet Media - USA. - website in UK.
Gannet to purchase Independent News Media - Independent News Media owns 49% of iTouch, firm that does the monitoring and tabulating of American Idol voting.
---
Rupert Murdoch's News Corporation Owns >
Newspaper
Times of London
Harper Collins
book publisher
1,000
Other Companies
including TV stations
media outlets worldwide
& Stats Int'l
Recently purchased
34% ownership of Hughes Electronics
GM owns other percent
Hughes makes electronic parts for GM cars
Owns DIRECT TV
News International, Newpapers in England
Independent News
England
owns >
Newspaper
The Independent Newspaper
Which owns 49% of
iTouch
telephone tabulation firm for AIDOL
The Independent is being bought by Gannet News in US for 180 million dollars.
H. Bauer Publishing in Europe, UK
owns
Bauer Publishing in U.S.
which owns >
INTOUCH MAGAZINE
Magzines
First for Women
Woman's World
Teen mags
TWIST, J-14
Bauer is a media client of
iTouch
the telephone tabulation monitoring firm AIDOL uses.
The Group
Bruxelles Lambert
Germany
owns >
25% of Bertelsmann
Germany
Also owns (4) major french oil companies
European utility company Suez &
Canadian Financial Corporation
Bertelsmann - Germany
privately company owned by
Gunther Thielsen family
related to Fritz Thyssen family
World War II Nazi collaborators
which owns >
Random House, USA
Music Company
BMG Entertainment
Magazine
Family Circle
Also RTL Group below
BMG Entertainment
owns
Arista
RCA
Zomba
records

Bertelsmann was also recently convicted of collaborating with the Nazi's during World War II using Jewish slave labor in its' publishing houses to propagate the Nazi war propaganda, including Hitler's book, Mein Kemp. Bertelsmann has been privately held by the Thielsen family for nearly 100 years.

The Fritz Thyssen family is related to the Thielsen family. The Fritz Thyssen family owned the German steel factories that built the Nazi war machinery. Preston S. Bush, President Bush's grandfather was partners with W.A. Harriman, Union Bank, New York, which was then shut down finally by President Roosevelt. They supplied U.S. steel to build Nazi tanks. Read my column from July, 2002 for details on this matter. This information is also available from the U.S. Government Archives and President Roosevelt's papers. President Roosevelt issued an executive order to shut down Union Bank for conspiring with the enemy during WWII.


RTL Group
owns >
Fremantle Media LLC
Fox Television and 19 Entertainment, Simon Fuller's company are partners with Fremantle to produce AIDOL for Fox
Fremantle contracts with iTouch for AIDOL voting tabulations and monitoring
Bauer Publishing which publishes INTOUCH magazine is a media client of iTOUCH.

I find this interesting how this is all one big happy family making hundreds of millions of dollars from the unsuspecting viewing audience. It is also interesting how INTOUCH magazine has been playing up the Clay/Ruben who really won strategy? Was this to bolster sales of records?
Also, Murdoch's Fox, (News Corporation), is in partners with Simon Fuller's 19 Entertainment Group who are partners with Fremantle Media to produce American Idol for Fox.
Reported Voting Problems
Cinergy Communications Corporation in Indiana took 169,382 misdialed phone calls intended for Aiken and 72,114 for Studdard during the three-hour voting period on the final night. All because of a glitch having to do with changed phone keypads. What I do not understand though is this. How can this number of people continously dial the wrong number and not know they are doing so? Has anyone else questioned that logic? The Cinergy glitch revealed a huge block of 241,496 real votes to an independent observer. This shows an actual voting pattern, something the show's producers have never allowed and if you stop to think about, really upsets the applecart. This shows a pattern of more than 2 to 1 in Aiken's favor. It also throws the shows results into doubt even if the margin for Studdard's win is only narrowed and not overturned from that swath alone. Does this remind you of something from the Florida re-count mess? The results from the filed complaints also show disturbing results.
What about the small business that had the same number for one of the contestants except for the prefix. This small business number started with 1-800 but the rest of the number was the same. Over 25,000 calls were made to this small business and when representatives of the company answered they were told by the caller, "my vote is for." The business got hit with a huge phone bill in addition to the headaches of answering 25,000 calls not theirs. Didn't anyone at iTouch or AT&T bother to cross check numbers to make sure this sort of thing did not happen. Evidently not.
Then there is the problem about the man who owns a telemarketing company with 200 phones. He brags that each nite he set all 200 phones dialing in on a re-dial basis for Ruben and that he cast over 250,000 votes. If this is true, this competition by no means was fair for any contestant. How many other people did this for the other contestants as the show progressed? Who lost because this sort of abusive voting is allowed by Fox? I actually received an email from this person bragging about this.
Shutting down of ports, FLUX OF SERVICE control interruption

The results from these complaints show a routing problem or possible "shutting down" of ports. Let me explain. According to a tech specialist I have consulted with, I have been told the following. "A tech could turn one of the ports off though a software configuration (either on purpose or through incompetence), erase or edit the logs, and the tampering incident is also gone. The proof is also erased. "
There is also what is called, FLUX OF SERVICE. This means that those monitoring and controlling the FLUX of calls can actually shut ports off and the lines become busy or in some cases are misdirected to other phone numbers if the person is not careful in what they are doing.
However, what can be tabulated are traffic patterns. This can be obtained by asking the type of information which was requested on the complaint form. We wanted to identify both the land line providers and cell phone providers of the complaints to see if there was a pattern and or huge percentages of one telephone company not having access to the widespread system which AT&T basically controls through their switching centers nationwide. Keep in mind though that MCI owns the largest fiber optics network, you will see why later. AT&T built and basically still owns the nationwide switching system centers. They are required by federal law to give fair and equal access to each telephone company.
The facts and data speak for themselves. There was something terribly wrong and my opinion is that it had nothing to do with traffic congestion in areas due to overload of calls. Congestion is controlled and relieved through the national switching centers spread throughout the country. Were trunk lines being blocked? Were calls being routed from other carriers into the AT&T switching centers properly? When did congestion occur? Who was controlling all of this? Where these calls re-routed to different numbers to relieve congestion at the AT&T congestion centers? Was the iTouch master control console tabulating the results in real time having ports turned off by controlling the "FLUX" of incoming calls? What about the calling of wrong numbers as so many have stated? When these callers dialed, they were receiving everything from, "that number has been disconnected to a baby sitting service."? These $64,000 questions needs to be answered to the American public and especially to those that have participated in this complaint survey
Time Zones Across The Country
The four time zones across the country have to be kept in mind. Those watching the show on the east coat were seeing the show "live". However, those on the west coast were seeing a taped version which is why they had to keep the lines open for extra hours. I am mentioning this because if you understand this, you will understand that this would relieve much of the so called telephone congestion and clogged switching center problems that has been given as an excuse.
OTHER RESULTS FROM THE COMPLAINT DATA
1,089 of land line users or 86.8% live outside a large metropolitan area.
600 of cell phone users or 85.2% live outside a large metropolitan area.
562, or only 44.8% were able to get through to cast even one vote.
555 or 44.2% were NOT able to get through to cast even one vote.

62 or 4.94% of land line phone users said they received a recording saying their votes was counted for wrong contestant.
36 or 5.11% of cell phone users said they received a recording stating their votes were counted for wrong contestant.


268 or 23.86% of land line users said they got a recording stating the phone number they had dialed had been disconnected.
168 or 21.37% of cell phone users said they got a recording stating the phone number they had dialed had been disconnected.

1,235 or 98.48% of land line users said that the voting should be changed to only one vote per person.
693 or 98.44% of cell phone users said that the voting should be changed to only one vote per person.

1,235 or 98.48% of land line users felt that the FCC should investigate this matter.
694 or 98.58% of cell phone users felt that the FCC should investigate this matter.

1,238 or 98.72% of land line users said lines were constantly busy on other dates as well.
696 ot 98.96$ of cell phone users said lines were constantly busy on other dates as well.

1,172 or 93.46% of land line useres said the FCC should look at AT&T phone records for voting abuse
666 or 94.60% of cell phone users said the FCC should look at AT&T phone records for voting abuse.

1,076 of 83.57% of land line users said they would be boycotting Fox.
619 of 87.91% of cell phone users said they would be boycotting Fox.

1,048 or 83.57% of land line users said they will boycott American Idol next season.
604 or 85.80% of cell phone users said they will boycott American Idol next season.

614 or 48.96% of land line users said they will boycott advertisers of American Idol.
while 640 stated it was not the advertisers fault.
364 or 51.70% of cell phone users said they will boycott advertisers of American Idol.
while 340 stated it was not the advertisers fault.

1,245 or 99.28% said the lines were constantly busy.
Only .70% got through on first ring. Less than 1%.

1,085 or 78.6% said they are boycotting products advertised on the show.

1,365 or 98.3% said the lines were constantly busy and could never get through to vote.

The 10.15% above stated they got a recording saying the number had been disconnected. Does this correlate with the 285,000 vote Cinergy glitch problem of people supposedly calling the wrong number? That maybe these calls were the ones being re-directed by someone. If so, then these votes to Cinergy were not actually viewer error of mis-dialing.
Tried to get information from Fox Executive
On the morning of the final show,( after I had received over 800 emails from people asking for my help ), I spoke with Senior Vice President, Joe Early at Fox Television in Los Angeles.
I asked Mr. Early if both Ruben and Clay had been provided the same number of incoming trunk lines for incoming voting calls. His reply, "Fox will not divulge that information because we do not explain our voting methods or technology."
Here is the key word...technology. Remember what I explained to you above, "a tech could turn one of the ports off though a software configuration (either on purpose or through incompetence), erase or edit the logs, and the tampering incident is also gone. The proof is also erased. " There is also what is called "FLUX" control. I also asked him who controlled the telephone system for the overall voting. He replied with the same answer, "Fox will not divulge that information because we do not explain our voting methods or technology." Where is the control center for this event for managing the incoming calls and who is controlling it is the question that I can't get anyone to answer. Now, why is that?
What bothers me the most about this whole matter is the fact how some people simply say, "It's just a show, so what's the big deal here, why is everyone upset."
The matter has to do with honesty, integrity and trust. When Fox and the producers of American Idol give the appearance to the American viewer time and time again that it is they who choose the American Idol, when evidently they do not, then in my opinion, the trust of the American public has been abused for greed.
There are also the reports of the contracts that tie up the contestants even before the show starts. What do these have to do with what the American viewer has been made to believe in how they chose the winner? I believe that is what is being missed here. The hundreds of emails I have received certainly indicates something was terrible wrong that night.
Tried to get information from Telescope.tv - i.e.- ITouch
The following questions were sent to telescope.tv - i.e. ITouch, the firm that handled the voting monitoring and tabulation in real time for American Idol.
As of Sunday night, 6-27-2003, 9PM EST, there has been no reply from anyone from telecope.tv or ITouch regarding these questions. If a reply is received answering these questions, an update will be added with their response.
1:) How many telephone toll-free incoming trunk lines did each contestant Clay AIken and Ruben Studdard have on the night of May 20th available to viewers to call into to be able to vote.
2:) Is the "FLUX" of incoming calls monitored by telescope, i.e. iTouch and can these incoming calls be controlled by iTouch or is this controlled by your provider AT&T?
3:) Is the incoming trunk line traffic monitored and controlled by iTouch or by AT&T?
4:) What is the percentage you are showing of the Nielsen Ratings viewership of 23.4 million that were actually participating in voting?
5:) Did iTouch bother to check with AT&T for cross referencing toll-free numbers to make sure there were not similar toll-free numbers regarding the 800 and 888 prefixes? Meaning the only difference in the number was 800 or 888?
6:) How many viewers does iTouch estimate were not able to get through to vote.
The recent sample survey done of 1,223 viewers showed that 257 of them could not get through to cast even one vote. This represents 21% of this viewer sample that said they could not get through to vote. This represents that incoming trunk lines were reduced by at least 20% from previous weeks. Amazingly, 120 of these 1,223 viewers said they heard a recording saying their vote was recorded for another contestant other than who they were actually calling to vote for. This represents out of this sample that 9.8% of those that were able to get a vote cast, that the vote was counted for the wrong person. These viewers insist they were dialing the correct number as well and that they got the recording more than once. Even if you allow for a margin error of 50%, that still represents 4.4% of viewers calling had their votes being counted for another contestant.
7:) Is it true that in previous weeks, that votes for Clay Aiken were running approximately 30% more than votes for Ruben Studdard?
Has This Been One Huge Manipulation of the American Viewing Public?
The more viewers watching the show, the more Fox can charge for commercials. I understand the last going rate was $240,000 for a 20 second spot on the show. But what I find truly hypocritical by Fox is the fact that they allow viewers to vote as many times as they want. What does this mean? The Nielsen Ratings for that night showed that American Idol had 23.4 million viewer supposedly. Yet, American Idol says they tabulated 24 million votes. This simply does not make sense.
I've received emails making the comment, "24 million people voted." This really needs to be clarified. There is no way that number of people could have actually voted. That is VIEWERS watching, not those voting. This is important to understand because if this is not understood, the impact of the data from these complaints will not be understood.
The combined average votes which complainants stated they were able to actually get through and register averages out to 14 votes per person. Divide this 14 average vote per person that did get through by 24 million votes, this means that only 7.33%, or 1.7 million of the 24 million viewers were actually voting. The main thing is how could you have 23.4 million viewers register 24 million votes. That's the point I'm making. The actual number of people voting is far less than the actual number of total votes. It is very evident there were not enough incoming trunk lines to take care of everyone that wanted to vote. At best, there were not more than 1.7 to 2 million people actually able to vote. If they had had 24 million people voting in that time span, it would have blown circuits from Alaska to South America.
Then there was Ryan Secrest saying on one telecast repeatedly, "and 19 million of you cast votes tonight for your American Idols." Hello... anyone seeing this huge misrepresentation here? That is 19 million votes, not viewers that are actually voting. American Idol has never disclosed how many viewers actually voted, just votes. Let's just say that if the votes are averaged out that each caller should have been able to make by the average from this complaint survey sample, 389 votes per caller by the estimated 1.7 million viewers, that equals approximately 656 million votes that should have been cast. This is being pointed out because of all the reports you hear about people voting 250 times, 2000 times, 250,000 times for one contestant it only proves something was amiss that night.
And then there is the money. Don't forget the millions Fox and the producers make from AT&T for all the text messaging. That is not free. It costs the viewers. At ten cents a pop and an estimated forty million votes were cast over the entire show period, that is $4 million dollars in revenue for AT&T and s percentage of that goes to the producers.
Hello America...I think you've been duped!
Other Problems We Experienced In Trying To Accept The Complaints

When we first started taking the forms on Thursday, May 22nd, we started receiving thousands. After the first 3,000 bogus complaints were discovered by that Friday morning, we had received over 25,000 complaints. We tabulated this large volume at first by automatic means and reported the early results of 14,000 complaints and nearly 5.5 million lost votes for Clay. However, that following Saturday morning, we discovered that someone had been trying to sabotage the tabulation. They had been submitting multiple complaints, only changing the name, leaving all the other information the same. Someone definitely did not want these results to be collected or published and thought by submitting bogus complaints it would invalidate it.
Was this an attempt by over anxious Clay fans to boost the vote totals? Or, was it someone trying to make me look like a fool because these final results would be bogus if we had not caught this. Interestingly, there were people already posting negative comments about how the complaints were probably bogus by over anxious Aiken fans. There were complaints that Ruben fans would not bother filing a complaint because they were too scared to see what the results would be. Someone was definitely trying to sabotage this complaint survey. In addition, there were negative postings about how stupid this was to do. In any event, we caught the problem and placed measures into effect that screened and validated various input data before the complaint data was accepted for tabulation. Over the course of taking the complaints, 155 complaints were destroyed because they were coming from children under 18, and 1,402 more bogus complaints were submitted. This was evident by different names with same addresses. Whoever was doing this was not too bright to think we would not catch this. It is interesting how the the names of these posters of the negative comments on these message boards suddenly have disappeared.
We also encountered other attempts to make me appear unprofessional as a journalist. We had to implement new fire wall procedures on the site. We discovered that the site had been hacked. My columns had been changed with typos, incorrect sentences and so forth. We are still cleaning up that mess. Again, this was done to make me look like an incompetent journalist. I have simply explained these details to you to show you to what extremes people will go to to keep the truth from surfacing. I also explained these situations to you so you would understand why some journalists will simply not take on such projects because of these very situations. And forget about the mainstream media ever investigating and bringing the facts forward in something like this. You should understand now after reading the facts above how these huge news corporations are into everything and are in bed with one another.
Did I Start To Regret In Taking On This Project?
As these things kept developing, I must be honest about this. I began to regret that I took on this project. In the end though, I'm glad I stayed with it. However, I have taken some severe abuse from some individuals. There have been postings of negative remarks and attacks on my character and credibility. Comments such as, that I am only trying to stir up trouble and that I wanted to unseat Ruben and make Clay the winner. All of that is 100% false. I have already explained why I became involved with project and that is to obtain the truth. I am not for Ruben, Clay or any contestant. I am out for the truth. The truth is what sets you free. And with the truth, it will prevent this sort of thing from ever being done to the American public again. There are principles that have been abused here. When I first started reading some of the attacks being posted, I started to become concerned that Americans were losing their principles. As we were re-verifying some of the complaints by contacting people by phone, we also learned that some people were receiving emails with very negative comments about the column and myself. I guess whoever was doing this thought I would just throw up my hands in utter frustration and walk way from it. Well, I didn't and I'm glad I didn't. My faith also in my fellow man was restored. I would like to thank the thousands of people that know me and that came to my defense in various ways. Americans do still have principles! Thank you my fellow Americans and my readers for your heart warming emails!
What Are These Detractors Afraid Of?
What I would like to know is this. What are these people that attacked me afraid of? My conclusion is this. These people who were contacting people about me, ( they were also posting very nasty comments about me in message boards ) were not just fans of the contestants. I believe these were certain people who wanted to make me and this project look bad and foolish because they did not want certain things to come out. I even received emails telling me that some of these people worked for certain companies. I can't verify that, but that is what I was told.
Well...the facts have come out now. And my last comment is this. These detractors and people who were attacking me and who now, will most likely come after me even more...well, the final data results present the truth. You cannot dispute the facts that are presented here and are available to anyone. All you have to know is where to look and how to follow the money.
There are primarily twelve old European families that not only control Europe, but who also own and control nearly 36% of all corporate activity in the United States. Arabs own approximately 14% of corporate activity in the U.S. Japanese money owns about 8% of corporate U.S. activity. That only leaves 42% which is owned by Americans. Approximately 58% that Americans eat, sleep in, wear in, drive in, listen to, watch TV, etc. etc. is not manufactured by Americans. Just keep that in mind the next time a television host tells you, "and it is you, the American viewer who will chose our next American Idol."
The final results are listed below. Please pay attention to the notes inside the tables and in between the final result tables. There is important information in the footnotes as well.
One last thought. I received hundreds of emails from readers wanting to send me a donation for this project, to help with the expense of doing it. I graciously thanked all of you and have responded that a donation is not needed, but the thought was appreciated. However, I would like to ask those of you that did offer and even those of you reading this that didn't these two things that I would appreciate you doing.
First, become involved in organizations in your city that helps feed the homeless and the poor. Make donations with food, old clothing and even cash donations.
Second, become more involved in politics, both local and national. Read and dig more to find out what is truly going on behind the closed doors. For example. Do you know that the recent tax cuts mainly benefit the wealthy? In the long run, the federal government will also not be able to allocate out as much monies to local levels. This means locally, that local property taxes will rise and many other local services will simply go away because of a lack of federal funds. Our nation's child HEADSTART care program is one example of what will be severely impacted by these tax cuts. Many poor children will not be properly cared for now. Don't believe the political rhetoric dished out by politicians to make something sound good...ask and dig to find the real truth.
I ask these things for you, not me. My fellow Americans, this is your country. Take it back!
If I have showed you anything by taking on this project...it is that... You can !
On a final note, has anyone questioned why Martha Stewart is being hung out to dry. Yes, she probably did violate securities laws, but the big fish like, Kenneth Lay, Chairman of ENRON who walked away with $37.6 million dollars for far worse violations and fraud is free and still living high on the hog. Enron contributed $715,000 to President Bush's election campaign. President Bush's father has known Lay for years. So that I am not accused of attacking the Republicans, ENRON contributed heaviliy to the Democrat campaign war machine also. Attorney General John Ashcroft has recused himself from the Justice Department's probe into the ENRON matter because the company gave him $57,499 for his unsuccessful Senate run before becoming Attorney General. But wait, it gets even better.
Senator Phil Gramm from Texas, his wife Wendy Gramm was a member of the board of Enron and received $50,000 for a special charity of hers shortly before all this hit a yeart ago last February. Ms. Gramm who was a former securities regulator, the same people that are trained to watch for things of what happened to Enron, joined Enron's board in 1993 after helping to get new rules written exempting some energy trades from government oversight, particularly the type of energy business that Enron was doing. And don't forget the top executives at MCI/WORLDCOM who also walked away with millions by manipulating MCI's stock fraudulently. It has been over a year and half and still no charges have been brought against Lay or the previous Chairman of MCI/WORLDCOM. I actually feel sorry for Martha. Has she become the scapegoat to draw your attention away from the executives of ENRON and MCI? I think everyone has forgotten about ENRON and MCI/WORLDCOM now that Martha is being hammered for only $347,000.00 versus millions for the other crooks still living high on the hog. Evidently Martha, you didn't contribute to the right political party or did you forgot one!
We will be celebrating America's independence soon on July 4th. The other day, I was reading a copy of our Declaration of Independence. As I read it again for I read it every 4th of July to remind me what a great country we live in, I couldn't help but think of an ancestor of mine and how ironic that today, I am following in his footsteps by publishing something that has to do with some of the very same principles declared in the Declaration Of Independence. Truth, liberty, justice and the pursuit of happiness. Who was John Dunlap? He was the printer who printed our countrys' Declaration of Independence for the fathers of our great nation. I guess printing the truth runs in my blood as well.
Before I close, I want to stress one important matter that I want everyone to understand. This matter has NOTHING to do with a race issue. What has happened concerning the phone irregularities and my investigation into this matter has nothing to concerning race. Anyone that tries to make this out to racist issue is simply trying to make it one. Ruben Studdard is a very talented young man in my opinion. As a matter of fact, I myself have actually purchased his CD as well as a Clay's CD. I feel they are both talented young men.
This matter and why I investigated this has nothing to do with who should have won American Idol. It has to do with just plain simple truths of how all viewers for all contestants were made to believe something that was not. Just because there were only a few complaints filed for Ruben Studdard does not make the results any less. Studdard fans should be as outraged as Clay AIken fans are over this matter. There should be no retaliation towards either Studdard or Aiken in any way shape or form because of these results from any fans of either contestant.
Anyone that takes these results whether they be a Studdard or Aiken fan and then tries to make them into something more using race as the underlining motive is a sad human being. Ruben Studdard should be treated with respect. He is a human being. See this information for what it is intended for. It is to show you, all fans of all contestants how you have been lied to. And this has nothing to do with over zealous Aiken fans trying to make an issue out of this over race either.
In all of the actual complaints filed, there were NO racist remarks made towards any contestant. The people that filed complaints for all contestants did not bring this issue into why they were filing their complaint.
I am addressing this issue because I have received a few, and I stress a few emails from fans of both contestatants suggesting that what I have done by writing this column is to make this a race issue. Shame on those few of you that have written me with such garbage. It is you that is the problem concerning race issues. Stop trying to make a race issue out everything you come across.
Who I feel so sorry for is both Ruben and Clay. Both of these talented young men have been caught up in something so corrupt and neither of them I believe realize it. My hope is that it does not make either of them corrupted in the end.
I wish them both much success in their performing careers!
The final vote results and other statistics are listed in the remaining part of this column.
I want to point out that the data from these 1,253 complaints is not a reflection of what the actual voting outcome would have been for all contestants. However, the sample size is large enough to show that there was something more going on that just local telephone problems, network telephone problems or people mis-dialing telephone numbers. It provides the data to show further investigation is warranted.
There is something a wise philosopher wrote 3,000 years ago.
"Strange times are these in which we live
when old and young are taught in falsehoods school.

And the one man that dares to tell the truth
is called at once a lunatic and fool"

-- Plato.
Keep that in mind as you read the rest of this column, for I am not a lunatic or fool. I am only presenting you with the facts.
Some people will attack this column because they don't want to accept the facts or truth because they will then have to deal with the truth. And be careful of those that attack anyone presenting facts and truth. The question to ask then, what is the reason why someone is attacking someone that is providing the truth?
Have a Happy 4th of July and realize what a great country you live in and make sure you keep it that way!


~ David Lawrence Dewey ~
---
Complaints from anyone under 18 were not accepted. They were returned to the sender and told their parent would have to file the complaint and the original document was destroyed.
Each complaint was verified as a valid complaint from a "real' person by verifying the persons' name, address, city, telephone number using multiple online telephone directories. Those that matched listings were accepted without question. Those that did not have a match were put to the side and either emailed for verification or a phone call was made to validate that the complaint was from a real person. The second verification process, emails were sent out to the email addresses submitted on the complaints provided, verifying their email address. Those emails that came back as undeliverable were then re-verified by contact via telephone. Those that could not be verified or contacted either by email or by telephone were assumed to be a "bogus" complaints and were not accepted nor tabulated in the final results.
Approximately 115 such un-verifiable complaints coming from reliable sources were destroyed.
These complaints are being forwarded to the President of the Fox Television Network and to each FCC Commissioner in Washington. Master spreadsheet printouts showing complete names and addresses of those filing a complaint along with spreadsheets recapping the same results you are seeing in this column will be included. All complaint letters will be placed on CD's. All personal information collected in the complaint is for the tabulation of these results and to forward to the FCC and Fox. None of the information from the complaint forms will be used in any other manner, given to anyone or sold to any other source. A cover letter from myself will be included, stating the reason for the complaints being filed, the results and that the FCC and Fox can either respond to each complaintant or send a reply to me in which I will then post on the website and email everyone that filed a complaint of such response.
I may take some guff on this decision, but a decision had to be made to keep things as fair and equitable as possible. There were some complaints listing 4,000 votes for one phone. In consulting with professionals in telecommunications, the most votes under the best of telephone circumstances would not be more than 2,000 votes per phone during the time frame allowed. There would be rare instances where someone could make a little more than that, but not often according to my experts. One must keep in mind. You may be sitting there hitting the re-dial time after time because it is not answering, but when it does answer, that takes a few additional seconds to register. This reduces the amount of actual voting that could be done in most instances. So therefore, anyone listing more than 2,000 votes for each line, this number was reduced to 2,000 in the final tabulation. Please understand, this was to keep the final results as normal, accurate and fair as possible. There was one complaint for Ruben Studdard for 10,000 uncounted votes. The woman stated she had four telephone numbers and had placed that many votes before. Her 10,000 votes were reduced to 8,000 votes for the final tabulation. Again, this was to keep everyone on the same playing field concerning amount of votes lost for each contestant and to make the final results more real and accurate. I'm sorry if this offends anyone, but if you didn't understand the logic of what I explained above, then I don't know what else to say.
If claimants filed more than one complaint, only votes from one form was tabulated. There was no double counting of votes.
If a husband and wife filed using the same address, as long as the name fields were different, both results were tabulated as long as they had two phones, 2000 maximum votes allowed for each. The reason for this was explained earlier. Duplicate complaints with same name and addresse were only tabulated once.
The first table below is the age grouping representing the number of complaints filed by age groups. The largest sector of complaints came from people between the age of 26-55, 958 complaints or 74.46% of the complaints. 575 of the complaints were from people between the ages of 36-50 or 46% of the complaints. This was not a complaint survey filed by teenagers but mature adults that were sensitized that they could not vote for their contestant.
The next table is the State Listing by state for votes not counted for contestants.
In this listing, it lists the number of times that viewers had dialed to try and vote, followed by the number of times they actually got their vote registered for their contestant. The amounts that show in the columns for Aiken and Studdard represent lost votes that were not counted because people could not get through to vote.
This is then followed by market share data of the various telephone providers from FCC report filings and latest market share data from TNS Telecom services. This is important to know and read. Please note the special notes that are within each market share area table.
Last are the land line and cell phones provider tabulations. This shows the number of complaints broken down by the various telephone companies. It shows the number of complaints, the percentage of complaints, followed by the market share of that particular phone company. The last column in this table shows the "number" of users of each phone company to every ( ONE ) AT&T customer, ( this is based on market shares and number of complaints of this survey ) that could not get through to vote. The data is very damaging and shows that something very wrong happened that night and it was not simply local phone problems. It also shows which companies it appears were being "blocked" for whatever reason of reaching the toll-free numbers by the numbers involved and wide variances.

This material and column is a David Lawrence Dewey exclusive. ©2003