Are You Sleeping On A Defective Bed...
And The Company Won't
Honor The Warranty?

© copyrighted - July 15, 2007
Updated May 26, 2008 - Lawsuit Filed
Updated December 10, 2008, February 22, 2010, May 5, 2010
Out Of Court Settlement Reached


David Lawrence Dewey
"Reading provides knowledge...
knowledge leads to answers."

SEARCH

---

HOME

---

Previous Columns
---
NOTICE: IF YOU LINK TO THIS COLUMN, YOU MUST USE THIS URL:
http://www.dldewey.com/bed.htm
NOTICE ! - You may post a comment about the article and the URL link
in any message board or blog, but not the entire article on a message board or blog.
---
NOTICE: - UPDATE DECEMBER 10, 2008
Consumer complaints were taken for possible Class Action Lawsuits against mattress companies for not honoring their warranties. This information collected from consumers was forwarded to a Washington D.C. based Consumer Attorney for possible litigation. Click on the link below for the result of these submissions with resulted in an out of Court Settlement with National Bedding Company, a.k.a. Serta Mattresses.
Out of Court Settlement with Serta Mattresses
---
A DL DEWEY Exclusive - BREAKING NEWS - May 26, 2008

Report

Serta Sued Over Bogus Denial of Bed Warranties

A Class Action Lawsuit was been filed in Federal U.S. Court against Serta Bed Corporation in Chicago, Illinois, May 13, 2008.

Serta International responded to an increase in warranty claims for sagging mattresses by imposing an "inspection fee" to "investigate" the complaints, and enforcing vague exclusions for mattresses that have "a stain" or are "unsanitary," a class action claims in Federal Court.

Plaintiffs have stated that, "Serta has experienced a dramatic rise in the number of warranty claims during the last 10 years. This increase is likely due to Serta and the industry's general shift towards 'pillow top' mattresses, which are more prone to sagging, sinking and body impressions."

The Plantiff's claim Serta imposed its illegal "inspection fee," which was not mentioned at point of sale, to recoup some of its costs.

They also claim that Serta's "use of the complete exclusion for 'stained' or' unsanitary' mattresses can be applied to every mattress. Under the Defendant's rubric, once a mattress has been used for even one night,it can be considered unsanitary.

As a matter of fact, a mattress does not even have to have a stain to be unsanitary, as demonstrated by several recent news reports and exposes have demonstrated that, under a black light, a mattress with no apparent stain can often contain bacteria, mold,spores and a multitude of micro-organisms. Serta does not disclose the broad applicability of this exception in any manner whatsoever.

One plaintiff claims that "the alleged 'stain'" on his mattress "consisted of red fibers left by his red flannel sheets and did not related to thedefect in his bed."

Plaintiffs demand disgorgement and compensatory damages for consumer fraud and breach of contract. They are represented by Edward Wallace and Wexler Toriseva Wallace .

If you are a consumer that owns a bed made by Sealy or any other bed manufacturer that demanded an inspection, or who were required to pay an inspection fee that is no where expressed in the warranty; and/or the inspection revealed a defect in the bed, but the warranty claim was denied because of a stain or unsanitary condition on the mattress, please submit a Defective Bed Submission Form. These will be forwarded to the attornies.
---
A DL DEWEY Exclusive - BREAKING NEWS - July 15, 2007

Report
---
Are You Sleeping On Defective Beds
That Mattress Companies Won't Honor The Warranty?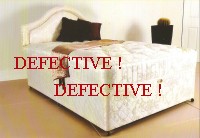 Over the course of the last several weeks, I have received numerous emails from consumers complaining about defective beds, mainly Simmons mattresses. The complaints of these defective beds are many. Sinking holes that develop within two years, sometimes within only weeks of use. Also other type of complaints.
In searching on various consumer complaint boards, I was astounded by the hundreds of complaints, many similar in nature. And they don't just center around Simmons mattresses, but other brands as well.
It appears all of the mattress companies in this country have been taking advantage of consumers for years... ignoring their valid complaints of defective beds. The companies use such excuses as, "there is a small stain on the bed and that voids the warranty, it makes it un-sanitary for us to take the bed back".
Excuse me, but un-sanitary? If the bed is defective and since it is used, it is Federal law that a used bed CANNOT be re-sold if it is taken back as a defective bed. This is just a lousy ploy that the mattress companies use to get out from honoring the warranties on their beds to consumers.
Another common complaint from consumers are sinking holes that develop, sometimes within weeks of purchasing the bed, sometimes taking two years to show to up. What do the mattress companies tell consumers concerning this defect in their beds?
Well, the company will send out an inspector and measure the "dips" or "sink holes" in the mattress. What happens is this....
If the mattress is a pillow top, the inspection will never hardly find a dip or sink hole in the mattress. The pillow top effect makes it impossible to see these dips or sink holes, not until you lay on the bed and that is when one sinks up to 3 to 6 inches in the bed and causes you a whopping back ache. But the companies won't allow the test to measure with someone laying on the bed. The "test" it has to be "FREE" of any weight on the bed to as they tell consumers, "to adequately measure if there is a defect in the bed." What a bunch of double speak and down right fraud to get out from under the warranty.
Consumers are complaining of developing severe back problems from these defective beds, yet the mattress companies just ignor the complaints and the picutures from consumers showing how much the beds SINK when laid or sat on. Instead, their customer service inspection people tells consumers that is "normal" for a pillowup bed.
Here are just a few of the complaints on various consumer complaint boards:
This complaint below is about a Simmons Beautyrest mattress. This was posted on E-Opinions where you will find hundreds of complaints posted about not only Simmons beds, but Sealy, Serta and other brands. The mattress companies are literally screwing hundreds of thousands of consumers out of defective beds and our own Consumer Protection Agency does nothing.
The following message was posted by: Moni Macaroni on E-Opinions
"We bought the top of the line Beautyrest king size mattress thinking that more money meant more comfort. Although it started out comfortable and the no disturb part is great the mattress has indented after only six months. I can no longer sleep on my back without waking up with a terrible backache and forget sleeping on my side - something goes numb and wakes me up. At 120lbs you would think that I wouldn't be able to cave in a mattress that baldy.
There are 139 posts posted on just this one E-Opinions page above. If you count the poor rating posted complaints, there are 90 out of 139 that complain these beds are defective in one way or another. That represents 65% of the posts are negative ratings and complaints about Simmons beds being defective. Make sure you select to sort the page by "rating". But you'll also have to scroll past the (5) star ratings to get to the "other" negatives express ratings at the bottom that are negative towards these beds.
Sealy mattresses are not much better is appears. Here is a post about a Sealy Backsaver mattress.
"It was expensive and terrible for backs!!!! My husband and I bought a Sealy Backsaver Queen Sized Mattress and Boxsprings set when we got married. We have been trying to sleep on this bed for about a year and a half now and it is the biggest waste of money I've ever spent. His side of the bed has a huge permanent indention and my back has been killing me!!!. I have never had back problems in my life and I now I have to go to the Chiropractor 2 times a week. I can't wait till we save up enough money for a new bed."
Evidently, the Serta mattresses are just as bad as the Sealy and Simmons mattresses.
Here is a post concerning a Serta Perfect Night Mattress. Posted by DJMERCER
"It's a place to put our sheets, sort laundry, etc. It falls apart after a year or so. Agonizing back pain. King Size Serta Perfect Night was okay for the first year then the whole mattress became gradually unbearable to sleep in due to sagging and loss of integrity of both the pillow top and the mattress. For the past year I have had horrible sleeps due to..."
When you visit E-Opinions to check out the postings, make sure you type in Simmons, Sealy or Serta in the search field but EXPLORE all of the various message boards. Make sure you go through all of the postings because even though you supposedly sort by ratings, the (5) star ratings some how manage to show up first and you have to scroll down for the poor ratings. It appears the poor ratings are purposely being hidden.
Here are other consumer complaint boards where you will find thousands of other complaints:
Here is a consumer complaint about Simmons at this consumer website:
BOGUS WARRANTY FROM SIMMONS
"I BOUGHT A SIMMONS BEAUTY REST MATTRESS/BOX SPRING 15 MONTHS AGO. RECENTLY WHEN CHANGING SHEETS, I NOTICED THE FABRIC ON THE PILLOW TOP IS SPLITTING OPEN IN ABOUT 25 PLACES. IN 6 MONTHS IT WILL BE IN SHREDS. COMPANY SAYS THIS "MATERIALS" ISN'T CONSIDERED "WORKMANSHIP" AND THEY DON'T INCLUDE THIS IN THE WARRANTY. WHEN I EMAILED THE COMPANY AND ASKED WHAT THE A10 CODE ON MY MATTRESS TAG STOOD FOR...THEY RESPONDED..."IT'S A 10 YEAR WARRANTY". THEY DID NOT STATE ANY EXCLUSIONS NOR DID THE STORE WHEN WE BOUGHT IT. I'M GOING TO SUE THESE JACKS. I'M GOING TO HIRE A COUPLE BIG "MOVER GUYS" TO HAUL THIS CAL KING MATTRESS INTO COURT. I DON'T THINK A CALIFORNIA JUDGE WILL AGREE THAT THIS IS NOT A "WORKMANSHIP" ISSUE. BASICALLY, WHAT SIMMONS TELLS ME ON THE PHONE, THEY HAVE AN "OPT OUT" ON ANY KIND OF WARRANTY CLAIM YOU CAN THINK OF. BOTTOM LINE..DON'T BUY A SIMMONS MATTRESS. THEY ARE RUDE AND MY MATTRESS IS SHREDDING IN 15 MONTHS. UNBELIEVABLE!! BY THE TIME THIS EMAIL SHOWS UP, SIMMONS WILL BE SERVED WITH MY COURT ORDER PAPERS...NO JOKE!!"
Thanks very much for your support - Don Wilder
What is a mattress warranty?
A mattress warranty protects the consumer from purchasing a defective product. Warranties can cover any structural or manufactured defects. Most bedding manufactures provide some type of warranty. These warranties fall in two categories Pro-Rated and or Non-Pro Rated.
What are the different warranty types?
A Non-Prorated warranty will cover full replacement value of your mattress or box spring if it is found to be defective. Non-Prorated warranties will normally extend for a full ten years and some even more.
A Pro-rated warranty normally decreases the replacement value every year that the product has been used until it reaches the maximum life of the warranty and exhausting the replacement value. For example, if you have a 5 yr Pro-rated warranty and your set original purchase price was $199.00 and you are approved for a set replacement in year 3 of the product's use, you would receive an in-store credit for $79.60 ($199.00/5years life span=$39.80 depreciated value annually. $39.80 x 3 years already used equals $119.40 depleted value. $199.00 minus $119.40 equals $79.60 remain replacement value.)
How do you determine the warranty your bed carries?
Warranties vary in the number of years in which they cover a product. Normally every new mattress will have a manufacture's warranty card attached to it upon delivery. This card will outline all of the items covered by the manufacture. Warranties can vary from as much a 20 years to as little as 1 year. Again each manufacture and product differs and each manufacturer have their own warranty codes that determine this.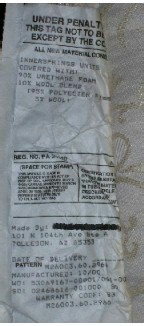 < SAMPLE WARRANTY TAG


What Does A Warranty Tag Look Like?
Every piece of bedding is required by Federal Law to have a Law Tag sewn into the product. Normally the Law Tag is a 3 inch by 5 inch tag sewn into the side of the product somewhere onthe mattress or box springs. It states, "Under Penalty of Law this tag not to be removed except by consumer doing so will alter your warranty rights". These tags contain valuable warranty information and should remain attached to the product. In many cases, if this has been removed, your warranty is voided. This tag states when and where it was manufactured and the type of warranty a individual product carries. A code letter or number will be written on this tag. By referring to the original warranty card, it will identify the number of years and whether it is Pro-rated or Non-prorated. Also you can check with each manufacturer or call a dealer, give them the code and they can tell you what the warranty is on he mattress or box springs. This information can also be found in the internet by each manufacturer.



What Is The Warranty Suppose To Cover?
Bedding warranties are basically all similar. They each cover crucial concerns like, coils or wires protruding from the mattress or box spring. Excessively lumpy fabric or shifting pillow tops will be covered. Body Impressions or sagging over one and a half inch. If your product sags or the box spring bows, cracks, sags or breaks. Typically mattresses and box springs/foundations are sold in matching sets. Should you have a warranty concern, a service call to determine a defect might reveal only one piece to be defective. A manufacturer's warranty will only replace those items that are found to be structurally improper and uncomfortable. Only defective merchandise will be replaced. One defective piece will not warrant the set being replaced as that it will match.
There are some small independent store dealers that truly do take care of their customers and treat customers fairly... but they hard to find. When shopping for a bed, make sure you ask the right questions about the bed and most importantly, ask questions about the dealer you are dealing with. They are your first line of defense with any product. If they will not tell you they will go to bat for you should you have any problems with the bed, then shop elsewhere. And make them sign an inspection report if you notice any unusual "spots" that could be interpreted as "stains". These "spots" are actually a defect in the dye of the material. Take pictures of it and make the dealer sign a statement that the "spot" was there upon delivery."
Many of the consumers who have filed complaints about the beds they have purchased complain about sinking holes and indentations that keep getting worse. This is a major defect.
In closing, if you have purchased a bed that you now believe is a defective bed, whether it be a Simmons, Serta, Sealy, or other brand and you have been given bogus reasons by the manufacturer NOT to honor the warranty, then please fill out this Defective Bed Consumer Submission Form
I am collecting this information from consumers to send to a Washington D.C. based Consumer Attorney who may file a Class Action lawsuit against all of these mattress companies for what they are doing to consumers.
By the way, I too have wound up with a "sinking" piece of mattress. I won't mention the brand, but paying nearly $2,000.00 for it and it now "sinks" in holes and I am told, "this is normal for a pillowtop". This is pure out and out fraud in my opinion. Do these mattress companies think consumers are simply going to roll over and forget about pursuing anything against their poorly made defective beds? I don't think so !
Till next time, remember this...I tell people this all the time...
If you don't get involved in politics and vote to make changes, then you deserve what you get and have no right to complain about anything!"
~ ~ David Lawrence Dewey
---
Make sure you read David Lawrence Dewey's in-depth article below about the deadly health effects of aspartame. Included are over 100 research studies, including a recent Italian long term study showing that aspartame causes Leukemia.

Aspartame
Sweetness Disguised as Disease or Death?
Also Known As Equal®, Nutrasweet®, or Spoonful®
Make sure you also read David Lawrence Dewey's in-depth article below about the deadly health effects of hydrogenated oils. Included are research studies, including Harvard Medical Research that these deadlly oils kill 30,000 people annually with heart diesease. They are cause diabetes, auto-immune, gastrointestional disorders and a host of other illnesses.

Hydrogenated Oils-Silent Killers
---
IMPORTANT UPDATE:
Make sure you read about the new documentary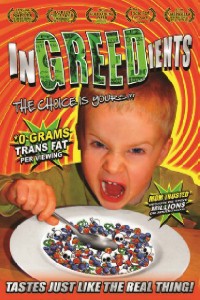 Read About the Film - Click Here
Do you want to die young with a diseased heart?
Develop needless high blood presure?
Develop diabetes type II ?

If not - then you need to watch this new documentary !

THE FILM HAS WON FIVE FILM AWARDS !
---
Do you care about your health, the health of your children, your family?
Then make sure you read my column:
Hydrogenated Oils - Silent Killers
Learn the truth about these deadly oils in our food supplies

Read about Greta Ferebee's and my efforts in a nationwide petition campaign to get these and other toxins out of the food supply. VISIT our website:


---
*The claims made about these products on or through this site have not been evaluated by the United States Food and Drug Administration and are not approved to diagnose, treat, cure or prevent disease. The information provided on this site is for informational purposes only and is not intended as a substitute for advice from your physician or other healthcare professional or any information contained on or in any product label or packaging. You should not use the information on this site for diagnosis or treatment of any health problem or for prescription of any medication or other treatment. You should consult with a healthcare professional before starting any diet, exercise or supplementation program, before taking any medication, or if you have or suspect you might have a health problem.
---
~ David Lawrence Dewey
---
In the United States, medical diagnosis and treatment is constrained by law to be the exclusive purview of state licensed practitioners. The diseases discussed on this site are serious, sometimes life threatening matters. Neither the content nor the intent of this column may or should be construed as the giving of medical advice or as recommending any treatment of any kind. The purpose of this column is to support informed discussions, to provide medical research links and and to help the patient identify the doctors who keep up with advances in their field.
---
© All Rights Reserved. Use of these collected data is restricted.
Newspapers, syndicates or publications wishing to use this information or his columns, email your request with details to Mr. Dewey's agent. Email Contacts for DL Dewey. For any other use, DLDEWEY for permission to use column or columns, detailing your request to use which column or columns and for what purpose.
©2007-2011
Rocky Mountain Publicity
Last Modified:
October 4, 2011