David Lawrence Dewey's Angel Award
Elizabeth Taylor - AIDS Charity Organizer ~ Beverly Hills, CA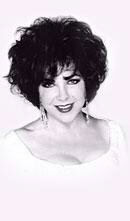 Elizabeth Taylor



Elizabeth Taylor was born on February 27, 1932 in Hampstead, London, England. Elizabeth passed away March 23, 2011 at the age of 79. She is also known as Dame Taylor, a title Queen Elizabeth bestowed on her. Her birth name was Elizabeth Rosemond Taylor.

I am going to miss this grand lady.

Ms. Taylor grew from a doll-faced child starlet to become one of the silver screen's most striking beauties, not to mention a compelling actress and one of the world's most famous movie stars. Taylor has received five Best Actresses nominations and two Oscar statuettes over the course of her amazing six-decade career. She has either starred or co-starred in 72 films during her carreer. She has appeared on television in 14 productions. On Broadway, in 1982, Elizabeth performed notably in Lillian Hellman's The Little Foxes at the Victoria Palace.


During her acting career, Elizabeth has received two ocars for her performances in:
Butterfield 8, 1960 and Who's Afraid of Virginia Woolf?, 1966.

In addition to her being a brillant and talented actress, when the crisis of HIV was being ignored, Elizabeth took it upon herself in the 1991 to make the world realize there was a crisis.

Elizabeth testifed before Congress numerous times to make Congress aware that they had to start funding research for HIV and AIDS. Personally, I attribute Elizabeth's efforts hte main driving force in getting Congress to do something concerning the crisis. Without her tireless and often outspoken words on the matter, it most likely would have taken years to get done what Elizabeth manages to do in just a short time in drawing the proper attention to the crisis.

So...Elizabeth founded The Elizabeth Taylor AIDS Foundation in 1991. Her main purpose was and has been for the express purpose of raising funds for distribution to AIDS service organizations around the world. The Foundation's main focus is to provide funding to organizations providing critically needed support services for people with HIV/AIDS, prevention services and education for populations most in need.

Since its formation, ETAF has distributed more than $8 million to AIDS organizations around the world. Ms. Taylor is actively involved in all aspects of the Foundation and has worked tirelessly for more than a decade to raise funds and awareness for HIV and AIDS.

Elizabeth Taylor invites you to join her in the fight against AIDS. If you would like to make a donation, please send a check (including your name and address for acknowledgement) to:



c/o Jess S. Morgan & Company, Inc.
5750 Wilshire Blvd.
Suite 590
Los Angeles, CA 90036-3697

All contributions are tax deductible

Visit Elizabeth's Foundation on the internet for more information:
www.elizabethtayloraidsfoundation.org/
More About Elizabeth
At 12 years old in 1944 she made her first screen appearance in National Velvet.

A riding veteran from the age of four, Taylor did her own riding for the film and most of her own stunts.





After her success in National Velvet, in 1946, Elizabeth starred in the series of Lassie movies. After a musical debut in Cynthia in 1947, her next movie, Taylor appeared with the studio's rising soprano star Jane Powell. In 1947, Elizabeth also starred with Irene Dunne and William Powell in Life With Father, a heart warming movie about family. In her next movie, In A Date With Judy, Taylor appeared with the studio's rising soprano star Jane Powell.


In 1949, Taylor joined a host of young MGM starlets, including June Allyson, Janet Leigh and Margaret O'Brien, with Taylor and Mary Astor, in the studio's Technicolor film adaptation of Louisa May Alcott's Little Women. Taylor wore a blonde wig for the film and was romantically paired with Peter Lawford.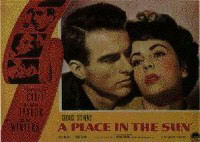 Released in 1951, George Stevens', A Place In The Sun, was a brillant role for Elizabeth. Elizabeth was only seventeen when in was filmed in 1949, marking her first adult role. A Place In The Sun became an acting landmark in Taylor's areer as her best performance since National Velvet. Prior to this filmed being released in 1951, Taylor has starred with Van Johnson in The Big Hangover. Taylor played an amateur psychologist Johnson who suffered from "liquor recall" in the film.


Also in 1950, at a mature eighteen years-old, Taylor's movie star life and real life coincided when, shortly before her own marriage to Nicky Hilton, she starred as Spencer Tracy's bride-to-be daughter Kay Banks in Father of the Bride. Taylor went on to star with Joan Bennett in a sequel to Father of the Bride called, Father's Little Dividend. Taylor and Bennett reprised their roles as parents of Taylor, now a mother-to-be.
In 1954, Taylor played carefree Helen Ellswirth in The Last Time I Saw Paris, a post-war soaper about young love on the rocks with co-star Van Johnson.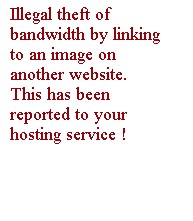 In 1956 came Elizabeth's huge success GIANT. Taylor starred with Rock Hudson and James Dean in the epic adaptation of Edna Ferber's novel about a young bride from Kentucky adjusting to life in Texas. The film was nominated for ten Oscars including Best Picture. GIANT is a multi-generational romance which also took on issues of racial prejudice at a time when it was not politically correct to do so. Despite that, it was a huge success for Taylor.

In 1957, Taylor was once again cast opposite Montgomery Clift, in RainTree County . Taylor played a Southern belle who married a Yankee from Indiana just before the Civil War and was tormented, not only by the political conflicts surrounding her, but by something from her past which she cannot explain. This was a great role for Taylor.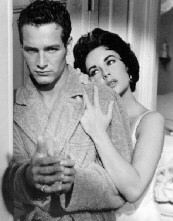 In 1958 Elizabeth, had outgrown pretty-face young adult roles. She starred in Cat On A Hot Tin Roof, capitalizing not only on her acting talents and womanly good looks, but also her impressive southern accent, first demonstrated in Raintree County in 1957. Co-starring with Elizabeth in the film was Paul Newman. The film featured Burl Ives, Jack Carson and Judith Anderson. This was the film adaptation of Tennessee Williams' popular stage play earned six Oscar nominations, including Elizabeth's second in the Best Actress Oscar category.

In 1959, Elizabeth strarred in another Tennessee Williams adaptation, Suddenly Last Summer. The film was a complicated and confusing but well-acted story of a Southern matriarch, played by Katharine Hepburn, who believes her young niece, played by Taylor), is mad and wants neurosurgeon Montgomery Clift. The film earned Oscar nominations for both Hepburn and Taylor in the Best Actress category.

After being nominated three years in a row, Elizabeth won her first Best Actress Oscar in 1960 for her performance as high-class call girl Gloria Wandrous in Butterfield 8. At first, Taylor adamantly avoided making this film.. However, this is definitely a memorable Elizabeth Taylor role. Taylor always regarded this Oscar as a sympathy tribute however, winning it, as she did, just months after a near-fatal battle with pneumonia.



In 1963, one of the most expensive films ever filmed was released starring Elizabeth Taylor and Richard Burton. Originally running at six hours before being cut to a little over four for release, the huge epic CLEOPATRA.

Sadly, the film did not do too well at the box office...however, it managed eight Oscar nominations including Best Picture, winning four technical awards. Today this epic is best remembered for the on-screen romance between Cleopatra and Marc Antony which lead to a highly publicized off-screen romance between Taylor and co-star Richard Burton.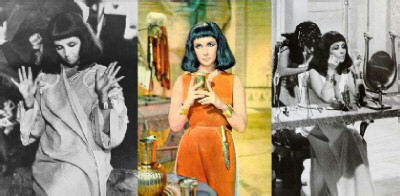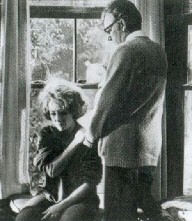 In 1966 Taylor earned her second Best Actress Oscar for her role as a middle-aged, alcoholic house wife in the film adaptation of Edward Albee's Who's Afraid of Virginia Woolf? Elizabeth co-starred with Richard Burton, George Segal and Sandy Dennis. This hard-hitting drama helped bury the Hollywood Production Code, earning 13 Academy Award nominations despite its use of such contraband words that would be considered foul language.

Since Who's Afraid of Virginia Woolf?, Elizabeth went on to star in 36 other films for movie theaters and television such as, Divorce His - Divorce Hers, 1973: That's Entertainment!, 1974: Between Friends, 1983: Malice in Wonderland,1985: the television mini-series North and South in 1985: Sweet Bird of Youth, 1989: The Flintstones, 1994: Those Old Broads: 2001.



---
Quotes from Elizabeth...
"It is bad enough that people are dying of AIDS, but no one should die of ignorance."

"You find out who your real friends are when you're involved in a scandal."

I'm a survivor - a living example of what people can go through and survive."

I've been through it all, baby, I'm mother courage."

"Marriage is a great institution."

"It is very strange that the years teach us patience - that the shorter our time, the greater our capacity for waiting."

"The problem with people who have no vices is that generally you can be pretty sure they're going to have some pretty annoying virtues."

"There art two cardinal sins from which all others spring: Impatience and Laziness."

"Success is a great deodorant. It takes away all your past smells."

"I feel very adventurous. There are so many doors to be opened, and I'm not afraid to look behind them."

"I don't think President Bush is doing anything at all about Aids. In fact, I'm not sure he even knows how to spell Aids."

"My mother said I didn't open my eyes for eight days after I was born, but when I did, the first thing I saw was an engagement ring. I was hooked."

"Some of my best leading men have been dogs and horses."

"I haven't read any of the autobiographies about me."

"People who know me well, call me Elizabeth. I dislike Liz."
---
For her tireless efforts to help humanity...
I award Elizabeth Taylor my Angel Award






---

---
---
© All Rights Reserved. Use of these articles is for personal use only. Any other use is strictly prohibited. Newspapers, syndicates or publications wishing to print his columns, email your request with details to Mr. Dewey's agent. Email Contacts for DL Dewey. For any other use, DLDEWEY for permission to use column or columns, detailing your request to use which column or columns and for what purpose.
©2004
David Lawrence Dewey
Updated December 11th, 2004
Updated March 24th, 2011
Email Contacts