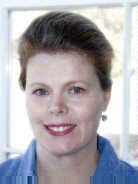 GREETINGS!
This is Leanne Ely, C.N.C.
( Certified Nutrition Counselor )
Author of Healthy Foods
Be Sure to listen to Leanne's new radio talk show,
Heart of a Woman, KBRT-740 AM, in Southern California, 2 PM daily.
Yes, it is me...
Now you see the face behind all those Healthy Foods newsletters you've been receiving from me.

First though, I would like to thank author and columnist, David Lawrence Dewey for so graciously offering me a page on his website.


I'd like to tell you about my new service. What's for dinner? Need some help? I am now introducing my new service, Menu-Mailer. How would you like to eat healthier, save money at the grocery store and get some help in the kitchen? If it sounds too good to be true, read on! Menu-Mailer is a six-day a week menu with recipes AND a grocery list included! You'll love the menus, adore the recipes and find having your grocery list already made up for you a dream! Menu planning has never been so easy. For just pennies a day, you will never have to panic about what's for dinner again. All the work has been done for you--all you have to do is subscribe!


This is a special introductory offer of only $9.95 for 3 months of menus, delivered weekly on Wednesdays. The premiere issue of Menu-Mailer came out on Wednesday, January 2nd.

PayPal is the preferred way to pay (if you don't understand how to use PayPal, email me at, leanneely@aol.com and I will explain) and will automatically subscribe you to Menu-Mailer. You can also read about Paypal HERE

Use my business PayPal account email address: leanneely@aol.com or send a check (written to Leanne Ely) for 9.95 to:

Leanne Ely
P.O. Box 361
Rutherfordton, NC 28139
INCLUDE your email address on your correspondence!

Remember--menus aren't just for restaurants!

Leanne's WEBSITE.

If you are interested in Menu-Mailer, email me at leanneely@aol.com for more information.
You can see some of my recipes in Mr. Dewey's The Recipe Korner area.

If you would like to receive my Healthy Foods Newsletter, please submit this FORM.
You can also request me to send you more information on Menu-Mailer on this form

~ Leanne Ely, C.N.C. ( Certified Nutrition Counselor )


---
A few words about Leanne from David Lawrence Dewey

I have known Leanne for sometime and I highly recommend the purchase of her new book, Healthy Foods. It is filled with delicious and healthy recipes to help your family be more healthy. You can order it below and save 10%, you'll be glad you did. And with most parents both working and taking care of children, you simply don't have time time to do all you need to do. That is where Leanne can help you tremendously with the most important and time comsuming chore...figuring out what to eat and buying groceries. I strongly recommend taking advantage of Leanne's new service, Menu-Mailer. For pennies a day, Leanne will provide menus, recipes and even a shopping list for pennies a day. Be sure you email her at leanneely@aol.com.

David Lawrence Dewey
author and syndicated columnist


---


Order it today by clicking on the cover above through Barnes and Noble and save 10%.
My latest book!

My Upcoming Schedule

The following is my upcoming book tour and travel schedule where you can meet me personally for an autograph copy of my latest book, Healthy Foods

I just appeared on QVC Shopping Network, Monday, January 7th. To all those that purchased by book, Thank you! I'll be updating my schedule soon!
---
BACK TO THE RECIPE KORNER
---
© All Rights Reserved. Use of these articles is for personal use only. Any other use is strictly prohibited. Newspapers, syndicates or publications wishing to print his columns, email your request with details to Mr. Dewey's agent. Email Contacts for DL Dewey. For any other use, DLDEWEY for permission to use column or columns, detailing your request to use which column or columns and for what purpose.
©1997 - 2010
Rocky Mountain Publicity
Updated October 4, 2010
Email Contacts