Food For Thought
"Truth Is What Matters"
© copyrighted
Peter Jennings - In Memory
August 8th, 2005
by columnist
David Lawrence Dewey
"Reading provides knowledge...
knowledge leads to answers."

SEARCH

---

HOME

---

Previous Columns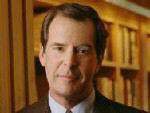 Peter Jennings
July 29, 1938 - August 7, 2005
In Memory...
By David Lawrence Dewey
Jennings candor and honesty, his intellect, his humor, his integrity and most important his love for mankind in reporting what he felt was important will be greatly missed by millions. Jennings death ends an era of journalistic reporting that we may never see again on network news.
Jennings was one of America's most distinguished journalists. Jennings reported many of the most important events that shaped our world in the last forty years. He was there in Berlin in the 1960s when the Berlin Wall was going up, and there again in the '90s when it came down.
Jennings covered the civil rights movement in the southern United States during the 1960s. In the 1970's and 80's, he covered the struggle for equality in South Africa. When the Voting Rights Act was signed in 1965, Jennings was there. When South Africans on the other side of the world voted for the first time, Jennings was there. Jennings had worked in every European nation that once was behind the Iron Curtain.
Very few names in broadcast journalism are as recognizable as Peter Jennings. His father, Charles, was the most listened radio announcer for the Canadian Broadcasting Corporation (CBC). Thus, it seems perhaps predictable that Peter Jennings would have his own successful career in the news industry.
Jennings was ten years old when he received his first anchor job for Peter's Program, a Saturday morning radio show which showcased young talent. As a student, he exhibited little interest in formal education. However, his interests and talent in the area of news would demonstrate his capacity and willingness to learn. Jennings began his professional career as a disc jockey and news reporter for a small radio station in Brockton, Ontario. Like many reporters who achieve major success his opportunity to make a name for himself came with breaking news. In this case it was the story of a train wreck he covered for the CBC that brought attention. But the story got him a job with CTV, Canada's first private TV network, rather than with the public broadcaster. On CTV he was noticed by ABC News' Elmer Lower, who recognized Jennings good looks and charm as elements that would sell to the American public. Shortly after, in 1964, Jennings joined ABC as an anchor for a 15-minute evening news segment.
In 1965, Jennings rose to the top. At 27, Jennings became the youngest ABC Evening News anchor. His competition at the time was Walter Cronkite on CBS and the team of Chet Huntley and David Brinkley on NBC. Cronkkite, Huntley and Brinkley were considered the most credible anchors of their time.
In this competitive industry, Jennings was unable to break through and establish a strong share for ABC News. In 1968, he left the anchor desk and was sent to Rome to become a foreign correspondent and sharpen his reporting skills. Jennings was credited with establishing the first American television news bureau in the Middle East and served for seven years as ABC News Bureau Chief in Beirut, Lebanon. After building a stong reputation for world-class reporting, Jennings was put back in an anchor position for A.M. America, the predecessor for Good Morning America, where he delivered five-minute newscasts from Washington.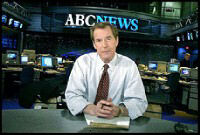 He was there when the independent political movement Solidarity was born in a Polish shipyard. When Poland's communist leaders were forced from power, Jennings was there. And he was in Hungary, Czechoslovakia, East Germany, Romania and throughout the Soviet Union to record first the repression of communism and then its death.
Jennings was one of the first reporters to go to Vietnam in the 1960s. He went back to the killing fields of Cambodia in the 1980s to remind Americans that, unless they did something, the terror would return.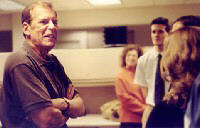 In broadcast journalism, Jennings had a reputation for putting the most complex and difficult issues on the agenda when others largely ignored them. From his early days in the Middle East and South Africa, to the contemporary challenges in Africa and the former Soviet Union, on education, health care and tobacco; these are issues with which Jennings stewardship at "World News Tonight" and his special series, "Peter Jennings Reporting," were associated.
Jennings was the author, with Todd Brewster, of the acclaimed New York Times best seller, "The Century." Structured as an epic tale about "ourselves," it is a lavish book that features astonishing first-person accounts of the great events of the century. In 1999, he anchored the 12-hour ABC series, "The Century," and ABC's series for The History Channel, "America's Time." He and Brewster also published "In Search of America," a companion book for the six-part ABC News series.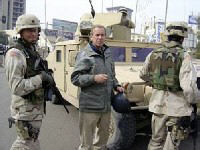 On Dec. 31, 1999, Jennings anchored ABC's Peabody-award winning coverage of Millennium Eve, "ABC 2000." At least 175 million Americans watched the telecast, making it the biggest live global television event ever. "The day belonged to ABC News," praised The Washington Post, "… with Peter Jennings doing a nearly superhuman job of anchoring. "Jennings was the only anchor to appear live for 25 consecutive hours.
Jennings led the network's coverage of the Sept. 11 attacks and America's subsequent war on terrorism. He anchored more than 60 hours that week during the network's longest continuous period of news coverage, and was widely praised for providing a reassuring voice during the time of crisis. TV Guide called him "the center of gravity," while the Washington Post wrote, "Jennings, in his shirt sleeves, did a Herculean job of coverage." The coverage earned ABC News Peabody and duPont awards.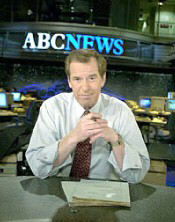 Jennings joined ABC News on Aug. 3, 1964. He served as the anchor of "Peter Jennings with the News" from 1965 to 1967.
Jennings established the first American television news bureau in the Arab world in 1968 when he served as ABC News' bureau chief for Beirut, Lebanon, a position he held for seven years. He helped put ABC News on the map in 1972 with his coverage of the Summer Olympics in Munich, when Arab terrorists took Israeli athletes hostage.
In 1975, Jennings moved to Washington to become the news anchor of ABC's morning program "A.M. America." After a short stint there, Jennings returned overseas to Rome where he stayed before moving to London to become ABC's Chief Foreign Correspondent.

In 1978, he was named the foreign desk anchor for "World News Tonight." He co-anchored the program with Frank Reynolds in Washington, D.C., and Max Robinson in Chicago until 1983.
Jennings was named anchor and senior editor of "World News Tonight" in 1983. In more than 20 years in the position he was honored with almost every major award given to television journalists.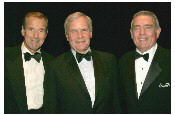 Here he is with Tom Brokaw and Dan Rather at an awards ceremony in 2004.

These men "created" news reporting on the networks and were trusted by millions of Americans for their news for over 45 years.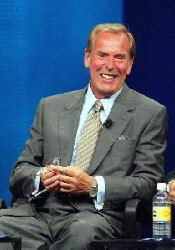 His extensive domestic and overseas reporting experience proved to be invaluable during "World News Tonight's" coverage of major crises. Jennings reported from all 50 states and locations around the globe. During the 1991 Gulf War and the 2003 War in Iraq, his knowledge of Middle Eastern affairs brought invaluable perspective to ABC News' coverage. Jennings interviewed the most important national and international figures of our time and anchored the ABC News coverage of every major national election since 1984.
In "Peter Jennings Reporting," which debuted in 1990, Jennings covered challenging issues in depth during prime time. Millions watched the critically acclaimed "The Search for Jesus" in 2000 and "Jesus and Paul — the Word and the Witness" in 2004. Jennings also focused extensively on international news, with specials on tense relations between India and Pakistan, the conflict in Bosnia, the crisis in Haiti, the war in Iraq, and the drug trade in Central and South America. The series also tackled important domestic issues such as gun control policy, the politics of abortion, the crisis in funding for the arts and a highly praised chronicle of the accused bombers of Oklahoma City. "Peter Jennings Reporting" earned numerous awards, including the 2004 Edward R. Morrow award for best documentary for "The Kennedy Assassination — Beyond Conspiracy."
Jennings anchored live news specials for children and co-wrote "The Century" (1998) with Todd Brewster, which became a 12-hour ABC series. He and Brewster also collaborated on "In Search of America" (2002). Jennings earned numerous awards, including the 2004 Edward R. Morrow award for best documentary for "The Kennedy Assassination - Beyond Conspiracy."
Jennings had a particular interest in broadcasting for the next generation. He has done numerous live news specials for children on subjects ranging from growing up in the age of AIDS, to prejudice and its effects on our society. After the events of September 11, and again on the first anniversary, he anchored a town hall meeting for children and parents entitled, "Answering Children's Questions."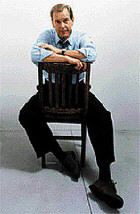 Jennings has been honored with many awards for news reporting, including 16 Emmys, two George Foster Peabody Awards, several Alfred I. duPont-Columbia University Awards and several Overseas Press Club Awards. Most recently, "World News Tonight" was recognized with two consecutive Edward R. Murrow awards for best newscast, based on field reporting done by Jennings on the California wildfires and the transfer of power in Iraq.
He lived in Manhattan with his wife, Kayce Freed. He had two children, Elizabeth, 25 and Christopher, 23. My deepest sympathy goes out to them.
You will be greatly missed Peter by millions...
especially by this journalist.
Here is a list of Peter's news reporting accomplishments:


Peter dropped out of high school, yet accomplished all this...
Started out as a Canadian radio and television news correspondent

Parliamentary correspondent and network co-anchor, independent Canadian Television Channel (CTV)
New York correspondent, ABC television, 1964
Nightly news anchor, 1965-68
Overseas assignment, 1968-74
Washington correspondent, news anchor, AM America, 1975-76
Chief foreign correspondent, 1977
Foreign desk anchor, World News Tonight, 1978
Anchor, senior editor, ABC World News Tonight With Peter Jennings, since 1983
Named Best Anchor in US Washington Journalism Review, 1988, 1989, 1990, 1992
Member, International Radio and Television Society
Recipient: duPont Columbia Award
Recipient of 16 Emmy Awards and several Overseas Press Club Awards.
Receipient of 2 Peabody Awards
TELEVISION SERIES
1964 World News Tonight (co-anchor)
1965-68 World News Tonight (anchor)
1975-76 AM America (news anchor)
1978 ABC World News Tonight With Peter Jennings (anchor)
TELEVISION SPECIALS and OTHER ACCOMPLISHMENTS
1985 45/85
1988 Drugs: A Plague Upon the Land
1988 Why This Plague?
1989 AIDS Quarterly
1992 Men, Sex and Rape
1993 President Clinton: Answering Children's
1994 ABC Viewpoint: Whitewater: Underplayed?
1999 The 12 hour special The Century
1999 Millennium Eve telecast - 175 million people watched
2000 In Search of Jesus
2001 Was on air over 60 hours after 911 occurred
2003 Became U.S. Citizen
2003 In Search of America
2005 Peter Jennings Reporting: UFOs - Seeing Is Believing
---
© All Rights Reserved. Use of these collected data is restricted.
Newspapers, syndicates or publications wishing to use this information or his columns, email your request with details to Mr. Dewey's agent. Email Contacts for DL Dewey. For any other use, DLDEWEY for permission to use column or columns, detailing your request to use which column or columns and for what purpose.
©2005
David Lawrence Dewey
August 8th, 2005