Food For Thought
"Truth Is What Matters"
© copyrighted
People In Moore Oklahoma Need Your Help America
May 21st, 2013
by columnist
David Lawrence Dewey
"Reading provides knowledge...
knowledge leads to answers."

SEARCH

---

HOME

---

Previous Columns
---
NOTICE: IF YOU LINK TO THIS COLUMN, YOU MUST USE THIS URL: http://www.dldewey.com/moore.htm
---
A DL DEWEY Exclusive


Report
People In Moore Oklahoma Need Y our Help America
David Lawrence Dewey - May 21, 2013 © copyrighted
---
One of the most devasting tornados in the last twety years has literally destroyed everything as it traveled 45 minutes over a 30 mile path of homes, schools, businesses and hospitals in Moore, Oklahoma. Three schools have been totally destroyed as well as the hospital in Moore.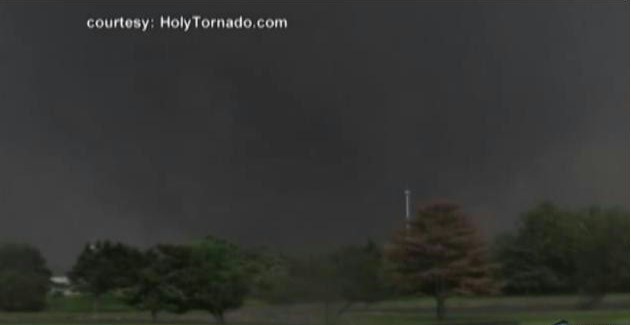 The tornado hitting Moore was over 1 mile in width on the ground.
The tornado was over a mile in width with winds over 200 MPH. Moore looks like a scene from a movie that has been devasted by war. Thousands, not hunderds of homes have been totally destroyed. As of Monday night, 91 have been reported killed with approximately 20 of those are children. Over 200 have been injured and that number in climbing.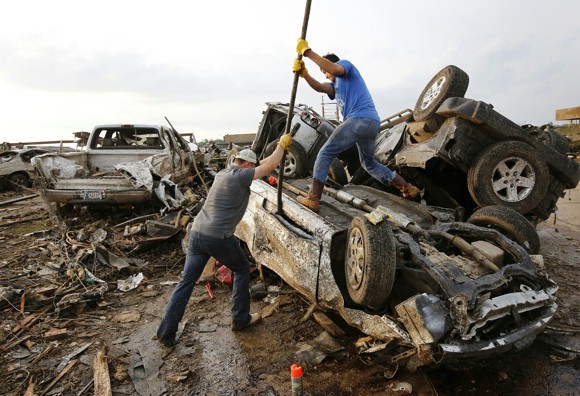 Two men are prying the door off to rescue someone inside that is still alive.
The American Red Cross has one shelter open in Moore and is working on locating others; we continue to operate three shelters that were opened Sunday in the Oklahoma City area following the storms on Sunday. .Red Cross volunteers are out tonight with food and supplies supporting first responders.
Red Cross volunteers are out tonight with food and supplies supporting first responders.More than 25 emergency response vehicles are positioned to move at first light Tuesday, and we expect that the number will increase. The Red Cross is also sending in kitchen support trailers to support the upcoming operation to provide meals to those forced out of their homes.
A woman carries her daughter to safety after the tornado hit.
A 35 mile path of destruction just as you see in this picture has hit the Moore area.
There is NOTHING left standing !
People in Oklahoma near the tornado area are encouraged to connect with one another and let loved ones know that they are safe. This can be done through the Iím Safe feature of the free Red Cross tornado application; http://www.redcross.org/mobile-apps/tornado-app
In addition, if you have access to a computer, go to
http://www.redcross.org/safeandwell to list yourself as safe.
If not, you can text loved ones or call a family member and ask them to register you on the site.
I am asking my readers from across the country and the globe to step up and please help those in Moore, Oklahoma. We are looking at not just a few hundred homes that have been totally destroyed, but thousands. Moore has a population of over 65,000 and over once half have been displayed from this tornado. That is 30,000 to 35,000 people and approximately 5,000 of those are children.
The best way you can help these families in Moore Oklahoma is through the American Red Cross. Please donate what you can.

https://www.redcross.org/donate/index.jsp?donateStep=2&itemId=prod60003
You can read more about the Moore, Oklahoma Red Cross relief efforts here > http://www.redcross.org/ok/oklahoma-city
If you you rather send a check, make it payable to The American Red Cross. On the check, write Moore Relief Fund and it will be used for the Moore Oklahoma relief and assistance effort. The nearest Red Cross office to Moore is in Oklahoma City.
American Red Cross
Moore Relief Fund
601 NE 6th St.
Oklahoma City, OK, 73104

If you need assistance in Moore, call the American Red Cross in Oklahoma City at 405-228-9500
Read more about the Moore, Oklahoma disaster on Oklahoma City's News9 station http://www.news9.com/category/112032/news

- ABC News has a live blog where you can get current updates:
http://abcnews.go.com/blogs/headlines/2013/05/live-updates-of-tornado-damage-in-oklahoma/
Those of you in Moore Oklahoma and the surrounding area, our prayers are with you.
One last thing, global warming is very real ! Watch this recent video of Operation IceBride a fly over of the Pine Island Glacier in the Anartica, the south pole. A massive crack has been appearing due to global warming. The site of a massive glacial crack will create an iceberg the size of New York City with a depth of over 2,000 feet thick. The images of this fly over shows the effects of global warming and this should make a believer out of anyone that MAN is the major cause of global warming.
http://www.youtube.com/watch?v=Tv9Kwg4PtR8&feature=youtu.be
Read my other article on global warming that I first wrote in March 2006 and I have continously updated with the latest research.
Global Warming - Is It To Late?
Please send an email to your family and friends with this link to this article. Let's make a difference !
People In Moore Oklahoma Need Your Help America
http://www.dldewey.com/moore.htm
Until next time....
~ David Lawrence Dewey
A couple of last things....
---
IMPORTANT UPDATE:
Make sure you read about the new documentary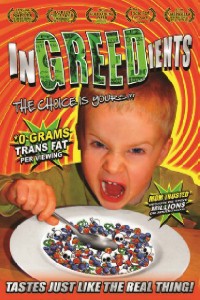 Read About the Film - Click Here
Do you want to die young with a diseased heart?
Develop needless high blood presure?
Develop diabetes type II ?

If not - then you need to watch this new documentary !

THE FILM HAS WON FIVE FILM AWARDS !
---
Would you like to save up to 25% on your gasoline cost in your car or truck?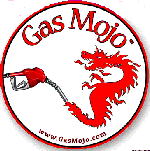 Then read what actual users of this
phenomenal device are raving about !

CLICK HERE
Improve your health with these amazing water wands !



The water wand introduces passive natural energy waves into clean drinking water, fruit, vegetable and vitamin drinks. This process causes water molecules to shed excess minerals and other substances, which break down into finer more usable nutrients. Since the water molecule becomes lighter, you can drink more liquids. This process balances pH, transports nutrients, and absorbs more waste in the body at a faster rate. Drinking more water and fluids helps increase your rate of hydration, assimilation of nutrients and elimination (detoxification). This subtle energy is discernable and gives a feeling of well-being.
Watch actual videos of how this transformed water affects
red blood cells before and after use.

CLICK HERE
---
Do you care about your health, the health of your children, your family?
Then make sure you read my column:
Hydrogenated Oils - Silent Killers
Learn the truth about these deadly oils in our food supplies

Read about Greta Ferebee's and my efforts in a nationwide petition campaign to get these and other toxins out of the food supply. VISIT our website:


*The claims made about these products on or through this site have not been evaluated by the United States Food and Drug Administration and are not approved to diagnose, treat, cure or prevent disease. The information provided on this site is for informational purposes only and is not intended as a substitute for advice from your physician or other healthcare professional or any information contained on or in any product label or packaging. You should not use the information on this site for diagnosis or treatment of any health problem or for prescription of any medication or other treatment. You should consult with a healthcare professional before starting any diet, exercise or supplementation program, before taking any medication, or if you have or suspect you might have a health problem.
---
In the United States, medical diagnosis and treatment is constrained by law to be the exclusive purview of state licensed practitioners. The diseases discussed on this site are serious, sometimes life threatening matters. Neither the content nor the intent of this column may or should be construed as the giving of medical advice or as recommending any treatment of any kind. The purpose of this column is to support informed discussions, to provide medical research links and and to help the patient identify the doctors who keep up with advances in their field.
---
© All Rights Reserved. Use of these collected data is restricted.
Newspapers, syndicates or publications wishing to use this information or his columns, email your request with details to Mr. Dewey's agent. Email Contacts for DL Dewey. For any other use, DLDEWEY for permission to use column or columns, detailing your request to use which column or columns and for what purpose.
©2009-2013
Rocky Mountain Publicity
Last Modified:
May 21, 2013