Food For Thought
© copyrighted
JGK Jr. Tragedy
July 17th,1999
Updated - July 20, 2009 - Dec. 15, 2009 - April 25, 2010
by columnist
David Lawrence Dewey

"Reading provides knowledge...
knowledge leads to answers."

SEARCH

---

HOME

---

Previous Columns

John Fitzgerald Kennedy Jr.
1960 - 1999
His Life In Retrospect
July 20, 2009 - It's been ten years since his death.
1953: John F. Kennedy and Jacqueline Bouvier marry




1957: Sister Caroline is born




1960: November 25, JFK is Born in Washington, first child to be born to a sitting president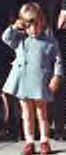 1963:
Assassin kills
President John F. Kennedy,
his father





1965-68: Attends St. David's, a Catholic elementary school
1968: Assassin kills Robert F. Kennedy, his uncle
1968: Mother marries Aristotle Onassis, a greek shipping mogul
1979: Graduates from Phillips Academy prep school in Andover, Massachusetts
1980: Works briefly for a mining company in South Africa
1981: Works for Center of Democratic Policy
1983: Graduates with a B.A. from Brown University
1983: Travels to Delhi, India for Studies at the University of Delhi, India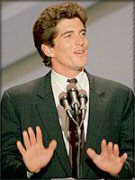 1984-86: Works for New York City Office of Business Development

1986: Serves as acting Deputy Director of 42nd Street
(Times Square) Development Corp.

1987: Interns at Justice Department in Washington



1988: Delivers keynote speech at the Democratic National Convention

1988: Serves as associate attorney at Manatt, Phelps, Rothenberg & Phillips in Los Angeles

1989: Graduates from New York University Law School

1989: Works in Juvenile Rights Clinic at Brooklyn Family Court
1989-94: Assistant district attorney in New York City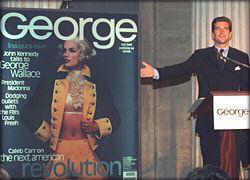 1995: Launches George magazine
Is Editor-In-Chief of magazine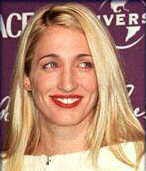 1996: Marries Carolyn Bessette in a secret ceremony

1996: He and wife Carolyn purchases apartment in Trebeca, N.Y., lower income area of New York instead of apartment in more affluent area on Fifth Avenue.



1997: JFK Jr. has a fight with his Editor at George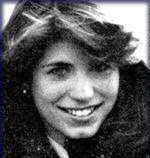 1999: July 17, Single-engine plane he is piloting crashes off the coast of Martha's Vineyard, Mass, killing him, his wife Carolyn and his wife's sister, Lauren.







Debris is first found 7-20-99

Wednesday Morning
July 21st, 1999

The bodies of
John F. Kennedy Jr., his wife and sister-in-law were found approximately 7 miles off the coast of Martha's Vineyard.
The bodies were found intact within the wreckage of the plane as indicated on the map. The bodies were transported to Martha's Vineyard where JFK Jr.'s uncle, Senator Ted Kennedy met them.
Thursday Morning July 22nd, 1999

The ashes of John F. Kennedy Jr., his wife Carolyn Bessette and sister-in-law Lauren Bessette were buried at sea Thursday morning off the coast of Massachusetts. Family members attending the private ceremony first met in Woods Hole, Massachusetts. From there they boarded the Navy destroyer, the USS Briscoe. They were taken 10 to 20 miles offshore where the ship was turned into the wind and the ashes scattered. Two Navy chaplains assisted a civilian priest who said a few words before the ashes were scattered.

The mourners included Kennedy's sister, Caroline Kennedy, his uncle, Sen. Edward M. Kennedy, and cousins Maria Shriver and William Kennedy Smith. The Bessette sisters' relatives attending were her mother, Ann Freeman, stepfather, Dr. Richard Freeman, and Lauren Bessette's twin sister, Lisa Ann Bessette.

Even though JFK Jr. did not serve in the military, he fulfilled one of the six categories that dictate burials at sea: notable service.

Memorial services for John and his wife Carolyn will be on Friday morning, July 23rd, at Manhattan's Church of St. Thomas More. President Clinton and the first lady are expected to attend.

Memorial services for Lauren Bessette wil be on Saturday, July 24th at Christ Church, an Episcopal church in Greenwich, Conn. An estimated 300 people have been invited.

Divers swimming with visibility of 5 to 8 feet, found the twisted wreckage Thursday morning, July 22, 1999. It was "the kind of thing you can imagine that would be the result of a high-impact contact with the water," Coast Guard Rear Adm. Richard M. Larrabee said. After divers recovered the bodies, the salvage ship USS Grasp pulled up a major piece of the fuselage and the propeller. The remaining pieces of the aircraft, which is spread over a 40-square-yard area, will be recovered and analyzed for possible cause of the crash.

The preliminary autopsy report was released July 22nd, 1999 shortly after burial at sea. It has listed the apparent cause of death for all three as death by multiple injuries. This indicates they died instantly and did not suffer.



		FROM THE DEPARTMENT OF PUBLIC SAFETY
		STATE OF MASSACHUSETTS

For Immediate Release                                                Contact:  Maria Farrah John

July 22, 1999                                                               (617) 727-7777 ext. 25507
 
 
 
Chief Medical Examiner Dr. Richard J. Evans has performed his inquiry into the cause and
circumstances of the deaths of John F. Kennedy, Jr., Carolyn Bessette Kennedy and Lauren
Bessette in accordance with Massachusetts General Laws, Chapter 38, Section 4. 
 
It is his conclusion that all three passengers died instantly upon impact as a result of the plane
crash.  The remains of John F. Kennedy, Jr., Carolyn Bessette Kennedy and Lauren Bessette
were released to their families at approximately 11:00 p.m. last evening.
 
Further questions regarding the recovery operation should be directed to the National
Transportation Safety Board.
 
This office will provide no further statements at this time out of respect for the families.
---
Note the time above that the bodies were released. 11:00 PM, Tuesday evening, and the bodies were cremated and transported to the naval ship by 9:00 AM the next morning, Wednesday?
---
JFK Jr. In His Own Words


On the Kennedy family: "It's hard for me to talk about a legacy or a mystique. It's my family. It's my mother. It's my sister. It's my father. We're a family like any other. We look out for one another. The fact that there have been difficulties and hardships, or obstacles, makes us closer. Vogue, 1993
On founding George magazine: "It was important to me to go outside the (political) arena for a number of reasons. I think everyone needs to feel that they've created something that was their own, on their own terms." USA Today, 1998
On the Profile in Courage Award, established by him and his sister Caroline: "I'd like to see it become what the Oscars are to the film industry or the Nobel Prize to peace and economics. The single award that recognizes achievement and acts of courage in public life." Vogue, 1993
JFK Jr. - A Simple Man
by David Lawrence Dewey ©All Rights Reserved, 1999
JFK Jr. was a simple man. You can see this from his life experiences. Working as an attorney in the Juvenile Rights Clinic in Brooklyn, he learned the struggles first hand of lower income Americans. He also studied in a foreign country, India, a country that taught him much about human suffering. Instead of living in his Mother's old Fifth Avenue apartment after her passing, he and Carolyn chose to live in Brooklyn with the people. It was here that he was truly admired and loved for just being a simple man. Everyone in the area loved John John and his wife Carolyn. As one resident in the area said, "They were not stuck up, just simple nice people to chat with, who truly cared about others." And evidently both did with many in the area. They were concerned about their neighbors problems and helped with many community projects in the area they lived.
I had the great privilege of not only hearing JFK speak at the Democrat Convention in 1988, but in meeting and speaking with him for several minutes. He was a remarkable young man. The most important sincere quality I detected was that he was not only truly listening to what I was talking to him about, but cared about what I was sharing with him. I knew this because he asked questions, wanting to know more about what were were talking about. How many sincere politicians today do you know that ask you questions to find out more about a problem. I will remember that afternoon the rest of my life. Not because he was JFK Jr. the famous son of our President, but because of who he was. A simple man that cared deeply about the rest of us.
Many Americans including this one, had hoped that JFK Jr. would someday run for President. He would have been one of the greatest Presidents, just like his father. Not because he had the Kennedy name, not because he had the Kennedy wealth, but who had become, JFK Jr., a simple man just like us all. Through his own suffering and pain he had learned a very important character, truly knowing about human suffering and most importantly, caring, truly caring to correct that which was wrong. I wish more politicians would follow his example.
I hope that the search and recovery teams find the wreckage to show what caused the accident and that it was an accident at that. It has always bothered me of his father's assassination and the many unanswered questions that were never answered concerning a possible conspiracy. I've wondered whether his mother, before her death, ever told him and his sister Caroline the truth concerning their father's death, if there was another truth? And if so, by knowing this truth, would this put them in danger? It was known recently that John was possibly considering entering politics, even possibly running for Senator from New York. I know one thing, I'm sure there are those that would not want another Kennedy in the White House. Especially the likes of John with the legacy he would bring. He definitely would have been elected President if he ran. This is why in my opinion, it is so very important to analyze the wreckage and find the cause of the accident. It is hard for me to understand why a plane all of a sudden would suddenly start dropping within 5 seconds as shown on recent radar findings at over 5,000 feet per second. In talking with aviation experts, they have suggested that is suspect of an explosion. Hopefully, we will find the truth here since they have recovered the wreckage. I am not trying to suggest some sort of a conspiracy, but here are a few questionable details.
Aviation experts I have talked with state that small debris like baggage ID labels, heavy baggage, a landing gear,( there were two pieces found, both the wheel and the metal strut, the metal wheel strut which was found by itself does not float, it was found on the beach), and pieces of carpet do not start washing shore. Here's why. If these things went down with the plane, they don't float to the surface. This type debris floats ashore or lands on the beach from the air because it was released in mid-air. This is similar to all the personal debris that floated ashore and fell to the ground with the TWA crash a few years ago.
In addition, a small plane like JFK Jr's can coast if there is not major weather factors like storms,etc., up to 10-15 miles even without the engine running. They were only 7-9 miles from shore when the plane dived. JFK Jr. would have certainly seen the lights even with a little haze. There was no storms that night in the area, only a little haze. The most important question? What caused the plane all of a sudden to start nose diving at 90 -100 ft. per second. Before we close the door on anything, let us look at all the facts first. This could have been a very simple minor engine explosion without any hint of a conspiracy. That is what we should find out, the truth, whatever it could be. If we are afraid of what the truth could in any matter, it is really a matter of us being afraid of not wanting to deal with the truth. It will be interesting to learn the results of these findings? If we ever do.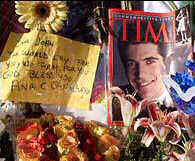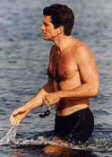 You and your wife
will truly be missed JFK Jr.
Swim... into the arms
of God my friend.

~ David Lawrence Dewey ~
---
IMPORTANT UPDATE:
Make sure you read about the new documentary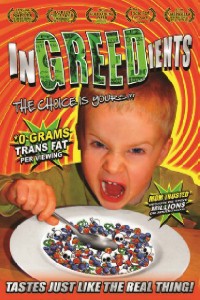 Read About the Film - Click Here
Do you want to die young with a diseased heart?
Develop needless high blood presure?
Develop diabetes type II ?

If not - then you need to watch this new documentary !

THE FILM HAS WON FIVE FILM AWARDS !
---
Do you care about your health, the health of your children, your family?
Then make sure you read my column:
Hydrogenated Oils - Silent Killers
Learn the truth about these deadly oils in our food supplies

Read about Greta Ferebee's and my efforts in a nationwide petition campaign to get these and other toxins out of the food supply. VISIT our website:


---
© All Rights Reserved. Use of these articles is for personal use only. Any other use is strictly prohibited. Newspapers, syndicates or publications wishing to print his columns, email your request with details to Mr. Dewey's agent. Email Contacts for DL Dewey. For any other use, DLDEWEY for permission to use column or columns, detailing your request to use which column or columns and for what purpose.
©1997-2011
Rocky Mountain Publicity
Last Modified:
October 4, 2011