Food For Thought
© copyrighted
Top New Stories of 2004
and Celebrity Deaths
And Remembering The 1,326 Servicemen
Who Have Died In Iraq
January 1st, 2005
by columnist
David Lawrence Dewey
"Reading provides knowledge...
knowledge leads to answers."

SEARCH

---

HOME

---

Previous Columns
---
NOTICE: IF YOU LINK TO THIS COLUMN, YOU MUST USE THIS URL: http://www.dldewey.com/jan05.htm
You may post a comment about the column and the URL link
in any message board or blog, but not the entire column, the column is copyrighted.
---
Happy New Year !
2004..a year to remember for many reasons.
I recently emailed a list of 100 news stories for 2004 to 5,000 of my readers. I asked them to pick the top 25 news stories and rank the remaining stories they felt were the most important to them in 2004. The following is the top 25 news stories they chose in the order they chose. I found this ranking interesting of what most Americans truly felt were the important issues/stories in 2004. The gay marriage issue stories rank # 100 out of 100. Readers were more concerned about other issues.
1. U.S. election.
2. 9-11 report.
3. The Votes In Ohio - Were They Properly Counted?
4. Abu Ghraib prison scandal.
5. Florida hurricanes.
6. Russian school seizure.
7. War in Iraq.
8. Price of oil rises sharply.
9. Arafat dies.
10. Reagan dies.
11. China in transition - stealing U. S. Jobs.
12. European Union adds 10 members, mostly from former Soviet bloc.
13. Afghanistan holds first presidential election despite violence.
14. Justice Department lawsuit seeks $280 billion from tobacco industry.
15. U.S economy: Congress cuts individual and corporate taxes but record deficit grows.
16. Madrid terrorist train blasts: 190 people killed, more than 1,200 injured.
17. Major U.S. airlines lose billions, struggle with fuel and labor costs.
18. Disputed presidential elections in Ukraine.
19. Federal Communications Commission cracks down after furor over Janet Jackson's breast exposure during Super Bowl.
20. Chief Justice William Rehnquist suffers thyroid cancer, misses sessions.
21. 40,000 in U.S. testing positive for HIV annually; 38 million now have virus worldwide.
22. Corporate scandals: Martha Stewart imprisoned and Enron's Ken Lay indicted.
23. Israel plans withdrawal from Gaza; conflict with Palestinians continues.
24. Euro hits all-time high against U.S. dollar.
25. U.S. faces shortage of flu vaccine.

The coverage of the Scott Peterson trial was ranked #26. The stories and issues about gay marriage were ranked # 100. This shows that Americans were more concerned about human suffering than the gay marriage issue. Stories about Haiti President Jean-Bertrand Aristide leaving amid turmoil of accusations of genocide and the humanitarian crisis killing thousands in Sudan's Darfur region and the recent Tsunamis disasters in the Pacific ocean region ranked #27, #28 and # 29. These stories were more important issues to readers than the gay marriage issue. Has the gay marriage issue been blown out of proportion by both sides of this issue? I believe my recent new story survey from readers says it has.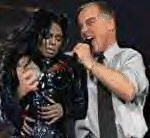 There were precarious incidents in 2004.

The Janet Jackson so called "accident" incident at the Super Bowl
and the media over "hyped" Howard Dean screaming episode when all Dean was doing was rallying and encouraging the crowd.
---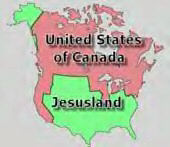 And then there was the cartoon about how the U.S. has divided and joined Canada into the United States of Canada because of the outcome of the 2004 election. The religious right wing believes Bush "owes" them.



Yes, 2004 was a year that presented many challenges for Americans to have to deal with and think about. For example, the loss of over 2 million jobs permanently to countries such as China, Guam, Phillipines, Mexico, all for the corporate dollar greed mindset.




I hope Americans have made the right decisions, especially in this last election. However, I believe that in the coming weeks, months and years, events will show that possibly the right decisions were not made concerning many issues. The election, global warming, oil energy needs, pure drinking water needs.

Did you know that by 2012 the U.S. will require 30% more pure drinking water that it is currently available to produce? I believe the next war will over water. We have just started one over oil. China is requiring 30% more oil due to their exspansive economy and to provide energy needs to its 1 billion plus citizens. China also recently signed a oil deal with Venezuela to import oil. Did you know that the U.S. get approximately 17% of its oil from Venezuela...expect oil prices to rise next year due to the demand of China oil. You might want to read part of my series, American In Crisis: Eyes On China - The Price of Oil.

Did you know that a government owned corporation of Communist China operates the Suez Canal now?

Did you know that England, China, Japan, Saudi Arabia in that order, own nearly 57% of U.S. Treasury Bonds and Notes. Japan as of October, 2004, owns $715.2 billion or 38.1% of total foreign ownership. Japan in November, 2004 increased this to $720.4 Billion. China as of August, 2004 owned $274.1 billion or 15.6% of total foreign ownership. However, as of November, 2004, China has decreased is ownership to $174.6 billion. This is alarming which I will explain shortly. England owns $140.9 billion in U.S. Treasury Bonds.

China's reduction to a $174 billion stake in U.S. Treasury Securities is alarming; not only because of the negative implications for the U.S. dollar, but also because the U.S. could potentially lose its seemingly omnipotent grip on low interest rates. The other problem is, we are buying more from China than China is buying from the U.S. The U.S. needs to attract approximately $1.8 billion a day to fund its current account deficit and over spending by this current administration. The war costs and rebuilding of Iraq is simply bankrupting the U.S.

Accordingly, and to simplify things, if $1.7 billion or less in foreign capital flows into America tomorrow the value of the U.S. dollar declines, and if $1.9 billion or more flows into America - tomorrow the dollar's value increases. What this means is, expect interest rates in 2005 to shoot through the roof. OPEC, which the largest investor is Saudi Arabia, owns $46.9 billion in U.S. Tresury Notes. Did you now that Israel owns $11.9 billion in U.S. Treasury Bonds?

$1.855 TRILLION OF U.S. SECURITIES OWNED BY FOREIGN GOVERNMENTS.

Yes, that is $1.855 trillion dollars, ( nearly $ 2 trillion dollars ), owned by 30 plus foreign governments. Bottom line...the American public no longer own their country, foreigners do. You can view the list here:

MAJOR FOREIGN HOLDERS OF TREASURY SECURITIES
http://www.ustreas.gov/tic/mfh.txt
The above is a monthly report issued by the U.S. Treasury Department.

OTHER U.S. SECURITY FOREIGN OWNERSHIP OF U.S. SECURITIES: http://www.ustreas.gov/press/releases/js2159.htm
http://www.treas.gov/tic/shl2003r.pdf?SEARCH.X=24\&SEARCH.Y=6

These are serious issues that Americans must truly start thinking about, becoming involved in and not let the politicians handle these matters. Americans must start reading more of what is truly occuring in the country. The bureaucrats in Washington have already screwed up too many things in this country. Americans must stand up, voice what they want, make sure the politicians do what is wanted and most importantly... be counted to protect our resources and our future needs. Do not leave it up to those in Washington. Prior events has proven this to be true. It is time for Americans to make our elected politicians not only reponsible for their actions, but accountable for their actions. It is time for "real" campaign financing reform in this country. Americans must take the corporate $$$ control out of politics and out of Washington.

But for now, I would like to take a moment to honor those no longer here.

We also lost many talented actors, actresses and celebrities in 2004.

In Memorium
Dec. 29: Popular TV and Broadway star
Jerry Orbach, 69, dies of cancer in New York.


Dec. 26. Reggie White, NFL Great. Dies from apparent massive heart attack in North Carolina.



Nov. 7: Howard Keel, legendary movie musical actor, Dallas star, dies of colon cancer at age 85.



Oct. 10: Ken Caminiti, 1996 National League baseball MVP, dies of heart failure at age 41.



Oct. 10: Christopher Reeve, paralysis activist and actor, dies of heart failure at age 52.




Oct. 5: Rodney Dangerfield, legendary comedian/writer dies from complications of heart surgery at age 82.



Oct. 3: Janet Leigh, best known as the slasher victim in a shower in "Psycho," dies at age 77.



Aug. 26: Laura Branigan, singer of such hits as "Gloria" and "How am I Supposed to Live Without You," dies of a brain aneurysm at age 47.



Aug. 13: Julia Child, who preached a delight not only in good food but in sharing it, dies at 91 in California.



Aug. 8: Fay Wray, best known as the beauty in the movie "King Kong," died in her New York apartment at 96.



Aug. 6: Rick James, star funk singer, dies apparently of natural causes at 56.



July 9: Isabel Sanford, "Weezie" on "The Jeffersons," dies of natural causes at 86.



July 1: Marlon Brando, legendary actor, dies of lung failure at 80.



June 10: Ray Charles, legendary singer and musician, dies of acute liver disease at 73.



Jun. 5: Ronald Reagan, 93. The 40th president of the United States died at his home in Bel-Air, Calif., after a long battle with Alzheimer's disease. He was the longest-lived U.S. president.



May 17: Tony Randall, legendary television, stage and film actor, dies after a long illness at 84.


May 14: Anna Lee, television ("General Hospital") and film ("The Sound of Music") actress, dies of pneumonia at 91.



May 9: Alan King, comedian and actor, dies at 76 of lung cancer.



April 24: Estee Lauder, cosmetics giant, dies of cardiopulmonary arrest. She was believed to be 95.



March 28: Actor Sir Peter Ustinov, two- time Oscar winner ("Spartacus" and "Topkapi") and UNICEF goodwill ambassador, dies at 82 of heart failure.



March 27: Jan Berry, one-half of legendary surf-music duo Jan and Dean, dies at 62 after he stops breathing after a seizure.



March 17: J.J. Jackson, one of the original MTV VJs, dies at 62 of an apparent heart attack.


March 7: Paul Winfield veteran of stage, film and television, dies of 62 of a heart attack.



March 2: Marge Schott, former owner of the Cincinnati Reds, dies at 75; cause not given.



March 2: Mercedes McCambridge, Oscar- winning actress ("All the King's Men") and voice of possessed child in "The Exorcist," dies at 87 of natural causes.



Feb. 15: Jan Miner, actress known as "Madge the Manicurist" in Palmolive television ads, dies at 86 of natural causes.



Jan. 29: Joe Viterelli, veteran character actor and star of "Analyze This" and "Analyze That," dies at 66 of complications from heart surgery.



Jan 27: Jack Paar, "Tonight Show" host from from 1957-62, dies at 85 after a long illness.



Jan. 23: Bob Keeshan, television's "Captain Kangaroo," dies at 76 after a long illness.



Jan 22: Ann Miller, tap dance legend of stage and film, dies at 81 of lung cancer.


Jan . 17: Noble Willingham, character actor and star of "Walker, Texas Ranger," dies at 72 of natural causes.



Jan. 14: Ron O'Neal, star of the classic "Superfly," dies at 66 of cancer.


Jan. 5: Tug McGraw, Philadelphia Phillies great,,
dies at 59 of brain cancer.





And Last...

In Memory of the 1,326 Servicemen...
Who have given their lives in Iraq...



I salute you, and my deepest sympathies go out to the familes.

At the link below, you can view the names and photos of these brave servicemen who have given their lives.



You will have to register at the Washington Post to view the list and see their photos.
http://www.washingtonpost.com/wp-srv/world/iraq/casualties/facesofthefallen.htm
In closing, I would like to wish each and everyone of you a...
Happy, Healthy and Prosperous New Year.
~David Lawrence Dewey
---
© All Rights Reserved. Use of these collected data is restricted.
Newspapers, syndicates or publications wishing to use this information or his columns, email your request with details to Mr. Dewey's agent. Email Contacts for DL Dewey. For any other use, DLDEWEY for permission to use column or columns, detailing your request to use which column or columns and for what purpose.
©2005
David Lawrence Dewey
January 1st, 2005