Food For Thought
© copyrighted
Health Warning
Bovine Growth Hormone Disaster In Milk 12-03
December 20th, 2003
by columnist
David Lawrence Dewey
"Reading provides knowledge...
knowledge leads to answers."

SEARCH

---

HOME

---

Previous Columns
---
NOTICE: IF YOU LINK TO THIS COLUMN, YOU MUST USE THIS URL:
http://www.dldewey.com/dec03b.htm
---

Report
In an embargoed press release and by the way, Monsanto would not allow this information to be released until noon (CST), December 19, 2003, Monsanto wrote regarding their manufacturing facility: "They are making manufacturing corrections and improvements to their plant..." This is Monsanto's convoluted way of saying, "OOPS!"
Here is yet another example of Monsanto's botched bio engineering. In 2001, I wrote the following:
Monsanto announced in April 1997, that it was recalling genetically engineered canola seed because an unapproved gene slipped into the batch by mistake. The canola seed had been genetically manipulated to resist the herbicide toxicity of Roundup, which is Monsanto's top money making product. The recall involved 60,000 bags containing two types of canola seed, which is enough to plant more than 700,000 acres. Both types of seed have the wrong gene in them. The genes in the recalled seed have not been approved for human consumption. What is worse, the seeds had already been planted both on farms in Canda and North America and no one knows where, and these incorrect genetically altered seeds that are used to produce canola oil entered the food chain.
A spokesman for Limagrain Canada Seeds, which was selling the seeds under a Monsanto license, said that experts are trying to determine how the mistake occurred. "We may never know how this happened" he further stated.
This is why I do not recommend using canola oil.
In the meantime, milk and dairy products sold in America may have been seriously contaminated. Immediately pour all milk down the drain unless it is organic, meaning it comes from a farm where they give no anti-biotics or growth hormones to the cows. What's wrong? Well for one, the FDA's not talking.
Monsanto has experienced a big problem with their genetically engineered bovine growth hormone. They've issued the above press release indicating that Poslilac (rbGH, rbST) will be experiencing restricted deliveries and only limited supplies will be available to farmers.
According to Ron Cohen, author of the two books, Milk, The Deadly Poison and Milk, A to Z,
his website is http://www.notmilk.com, Mr. Cohen called the FDA on Friday afternoon. Cohen spoke with the Commissioner's office. He left messages for Dr. Steven Sundlov, director of FDA's investigative branch, Center for Veterinary Medicine, but he did not return his calls. Cohen spoke with Linda Tollifson's office. Tollifson actually runs things at the Center for Veterinary Medicine according to Cphen. Cohen kept being pused down the chain of command with his phone calls on Friday. Cohen finally spoke with Lynn Post, who told Cohen, "We know there's a problem. We don't know the details. We don't have all the information at this time."
Amazing how that when there is a health crisis, even paid government employees reply like a politician. It appears the Center is more interested in protecting Monsanto than the American people, who continue to drink genetically enginered milk and especially now with this potential severe health hazard.
Why is drinking milk from cows that have been given bovine growth hormone or anti-biotics not healthy?
Here is just a few of hundreds of research medical studies. These two studies document how rbGH, growth hormones significantly increases in milk is cows are injected with it.
World Health Organization Report Geneva, Switzerland. June, 1992
"After somidobove (rbGH) injection, mean IGF-I levels in the treated milk are always higher than those found in the controls."
December, 1990 National Institutes of Health Assessment of Bovine Somatotropin
"Levels of IGF increase in milk after cows are treated with rbGH."

The following studies show the serious health risks by drinking milk from cows that have been injected with growth hormones.
Science, vol. 279. January 23, 1998
"A strong positive association was observed between IGF-I levels and prostate cancer risk."

The Lancet, vol. 351. May 9, 1998
"Insulin-like growth factor (IGF)-I, a mitogenic and antiapoptotic peptide, can affect the proliferation of breast epithelial cells, and is thought to have a role in breast cancer."

Journal of the National Cancer Institute,
vol. 91, no. 2. January 20, 1999.
"Insulin-like growth factors (IGFs), in particular IGF-I and IGF-II, strongly stimulate the proliferation of a variety of cancer cells, including those from lung cancer. High plasma levels of IGF-I were associated with an increased risk of lung cancer. Plasma levels of IGF-I are higher...in patients with lung cancer than in control subjects."

Cancer Gene Ther, 2000 Mar, 7:3
"Insulin-like growth factor-1 (IGF-1) is expressed in many tumor cell lines and has a role in both normal cell proliferation and in the growth of cancers.

Institute Journal of Cancer, 2000 Aug, 87:4, 601-5
"The insulin-like growth factor (IGF) system is widely involved in human carcinogenesis. A significant association between high circulating IGF-I concentrations and an increased risk of lung, colon, prostate and pre-menopausal breast cancer has recently been reported. Lowering plasma IGF-I may thus represent an attractive strategy to be pursued..."
Just to be safe for the time being, I recommend, immediately discard all of your dairy products unless they come from farms that are organic, meaning they use no anti-biotics or hormones in their cows.
I also urge all of my readers to write, call and fax the FDA immediately to ban all use of anti-biotics and growth hormones in cows. How much longer and how many more hundreds of studies is it going to take to prove to the FDA that growth hormones and anti-biotics given to farm animals is NOT HEALTHY TO HUMANS. Are you tired of this madness and sheer stupidity of FDA officials...then start writing, calling, faxing the FDA today!
Additional information on milk
In reality, cow's milk, especially processed cow's milk, has been linked to a variety of health problems, including: mucous production, hemoglobin loss, childhood diabetes, adult onset diabetes, heart disease, atherosclerosis, arthritis, varicose veins, kidney stones, mood swings,depression, irritability, allergies and many other health problems.

ORDER HERE

ORDER HERE
Author, Robert Cohen
has written two very informative books,
Milk-The Deadly Poison and Milk A-Z.
On this page are over fifty research studies that Mr. Cohn has compiled to show the correlation of milk to health problems.

Mothers of children, I especially urge you to not only read these research studies, but to order Mr. Cohen's books.
I would like to share this with my readers at this time also. Please try to help this organization concerning our military families that are suffering because of their spouses extended duty in IRAQ.
A sudden and prolonged deployment can throw a family into financial, emotional and spiritual crisis. Besides the emotional toll of being without a deployed mother or father, families must somehow learn to cope on a substantially reduced income when one of the major breadwinners is sent overseas. Utility bills, food emergencies, car repairs, plumbing repairs, baby-sitting, diapers, birthday parties, holidays, pregnancies-it all adds up. And with the recent reduction of $250 a month in many guard members' pay, it's easy to see how quickly a young family can go from stable to desperate.
There is an organization called, Operation Adopt-A-Family this holiday season. The non-profit organization distributes store vouchers and cash to the families of the deployed who are in greatest need, beginning with families of small children, expectant mothers-to-be, and large families of professionals with a recent drastic cut in income.
Operation Adopt-A-Family also matches volunteers with needy military families. The volunteers provide emotional and spiritual support to the family throughout the soldier's deployment.
Donations can be mailed directly to:
Honor Thy Children Foundation
Operation Adopt-a-Family
P.O. Box 10822
Portland, OR 97296

If you'd like more information about the fund, you can visit the foundation's website at: http://www.supportourtroopsusa.org
One of the supporters of the fund is former Marine Wayne Standiford of Condon, Oregon.. Having served in Vietnam, Mr. Standiford knows the difficulties faced by soldiers and their families caught in a war as it drags on and on without any clear victory in sight. That's why he's donating $1 to Operation Adopt-A-Family for each copy sold of his book, BURY ME WITH SOLDIERS.
This holiday season, help support Operation Adopt-A-Family.
Last but least, I would like to share this photo I received from the proud warriors of Baker Company in IRAQ who wanted to do something to pay tribute to their fallen comrades this Holiday Season.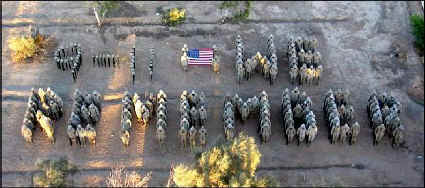 Have a Happy Holiday Season and a Merry Christmas

God Bless

~ ~ David Lawrence Dewey
---
---
In the United States medical diagnosis and treatment is constrained by law to be the exclusive purview of state licensed practitioners. The diseases discussed on this site are serious, sometimes life threatening matters. Neither the content nor the intent of this column may or should be construed as the giving of medical advice or as recommending any treatment of any kind. The purpose of this column is to support informed discussions, to provide medical research links and and to help the patient identify the doctors who keep up with advances in their field.
---
© All Rights Reserved. Use of these collected data is restricted.
Newspapers, syndicates or publications wishing to use this information or his columns, email your request with details to Mr. Dewey's agent. Email Contacts for DL Dewey. For any other use, DLDEWEY for permission to use column or columns, detailing your request to use which column or columns and for what purpose.